Posted on January 24, 2015
How about another excerpt of DIE ONCE MORE to liven up your weekend? Just over a week until it releases! (February 3.) But if you really want to, you can pre-order it here: (Amazon/B&N).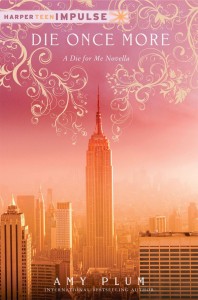 Here's your first view of Ava. (Yes, her!) This is near the beginning of the book when Jules meets the Council of New York bardia.
—————
A woman sitting next to Gold jumps in. "For those of you who don't already know of him, Jules Marchenoir is an accomplished artist. Perhaps those involved in the visual arts could provide him with necessary supplies, get him set up with a studio, and tell him when the life drawing group meets."
The woman is stunning—in an exotic kind of way: long black hair, copper-colored skin, almond eyes, and high cheekbones. I rack my brain but am sure I haven't seen her before. I would have remembered. So how does she know me?
"Thank you," I acknowledge gratefully.
She nods, but frowns, like the interaction is distasteful to her. Like I've offended her.
How bizarre. I must have met her before—it had to have been at a convocation. Did I try to pick her up or something? I doubt it—I restrict true flirting to human girls for just this reason. Why risk offending someone who could hold a grudge for eternity? Not to mention the danger of them falling in love. And who wants that?
Or at least that's how I used to think. Pre-Kate. She changed my game. Now I'd give up all the flirtations in the world just to be with her. Something pings sorely in my chest, and without thinking, I raise my hand to press it, drawing concerned looks. My kindred think I'm mourning. Let them. I am.
Gold breaks the silence. "Anyone else have a question?" He peers around the table. "No? Well, then I'll speak for all of us to say, 'Welcome, kindred.' We're glad you're here, Jules Marchenoir."
"Welcome!" several say together, like a cheer. People rise to go, several crowding around me to introduce themselves. Several ask about the French Champion—Kate. They want to know more details about how she emerged, and it is quickly obvious that their own numa problem is beginning to approach what we experienced in France.
My gaze drifts across the table to the girl who spoke earlier. A group of people stand around her, and the face that was stony with me is now radiant as she speaks with them.
A beautiful girl. Normally that would draw me like a moth to flame. Even with my no-kindred-lovers rule, a bit of playful banter and a shower of compliments (and the enjoyment of her inevitable response) would do my spirits a world of good. But not now. I don't even have it in me to say hello.
Her eyes lift and meet mine, and the coldness is like an ice ray.
What? I ask her silently, shrugging my confusion.
She rolls her eyes—actually rolls her eyes!—and turns her attention back to the person she's talking to.
Disconcerted, I look back to a man standing with his hand out and remember that I'm supposed to shake. No bises—cheek kisses—of course.
Faust appears and stands by my side as the room empties. "Need
anything?" he whispers to me.
"Yes," I whisper back. "I would give my immortal soul to get out of here and walk."
--------------------------------------------------------------------------------------------------------