The DIE FOR ME series

In the City of Lights, two star-crossed lovers battle a fate that is destined to tear them apart again and again for eternity. When Kate Mercier's parents die in a tragic car accident, she leaves her life behind to live with her grandparents in Paris. For Kate, the only way to survive her pain is escaping into the world of books and Parisian art. Until she meets Vincent.
Click here to learn more about the DIE FOR ME series!
L'univers d'Amy Plum

Les livres d'Amy Plum, auteur de la saga des Revenants, ainsi que d'After the End et de Dreamfall, ses nouvelles séries parue en anglais…et bientôt en français?
Cliquez ici pour lire plus sur la saga des Revenants!
The AFTER THE END duology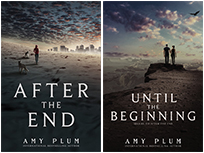 World War III has left the world ravaged by nuclear radiation. A lucky few escaped to the Alaskan wilderness. They′ve survived for the last thirty years by living off the land, being one with nature, and hiding from whoever else might still be out there. At least, this is what Juneau has been told her entire life.
When Juneau returns from a hunting trip to discover that everyone in her clan has vanished, she sets off to find them. Leaving the boundaries of their land for the very first time, she learns something horrifying: There never was a war. Cities were never destroyed. The world is intact.
Click here to learn more about the AFTER THE END series!
The DREAMFALL series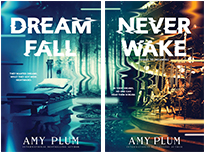 A Nightmare on Elm Street meets The Matrix in this gripping psychological thriller from international bestselling author Amy Plum. Seven teenagers who suffer from debilitating insomnia agree to take part in an experimental new procedure to cure it because they think it can't get any worse. But they couldn't be more wrong.
Click here to learn more about the DREAMFALL series!
Other Plummy Delights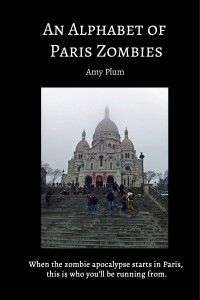 When the zombie apocalypse starts in Paris, this is who you'll be running from.
From the international bestselling author Amy Plum comes this illustrated series of rhyming couplets memorializing the mysterious deaths of twenty-six residents of the City of Light. For every letter there's another gruesome end linked to a famous spot, leading the reader on a deliciously ghoulish tour through Paris. The photos were taken by the author as she scurried around the city preparing the ghastly alphabet for her contribution as a Featured Author of the 2014 Twitter Fiction Festival.