Posted on February 9, 2016 by amy
It's that day: ITWOD4M's book birthday!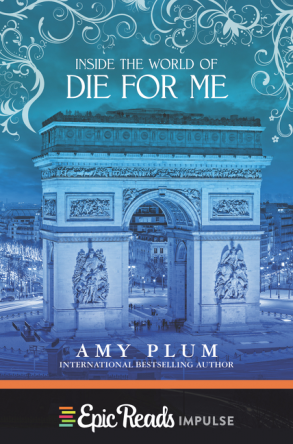 INSIDE THE WORLD OF DIE FOR ME loaded onto my Kindle while I was asleep last night. What an exciting thing to wake up to!
This is the 6th and final installment in the DIE FOR ME series, and I am so excited that you can finally access all of the treasures inside.
To celebrate, I posted part of Chapter 5: Deleted Scenes. This one's from IF I SHOULD DIE, and takes place right before the final war with the numa. Kate's being a bit naughty, and trying to lure Vincent into her room for a final goodbye, if that's what it turns out to be. She offers him five minutes. He wants more. Read it here as a part of Goodreads Romance Week 2016.
And if you haven't ordered it yet, it's not too late. For less than a cup of coffee—$1.99— you can dip into INSIDE THE WORLD OF DIE FOR ME right now. (How's that for immediate gratification?) Here are the links:
Amazon
directly from HarperCollins
iTunes
Barnes & Noble
And thank you so much for your continued enthusiasm for my books. Sending you all a big hug from Paris. Amy
--------------------------------------------------------------------------------------------------------