This is copied directly from my blog 5 years ago, just a couple of weeks after the scene that took place in Castle Story Part II: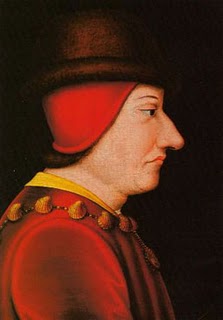 Do you know who this handsome guy is? Neither do I, and that's a problem because starting next Wednesday I am going to be talking to groups of people about him IN FRENCH.
The chateau where I have a summer job just asked me if I can start a couple of weeks early, since one of their regular guides quit. And instead of giving tours in English, they need me to give them IN FRENCH.
Anyone know the word for drawbridge in French? How about ramparts? And how about "The facade facing the town is made up of a crenelated wall, flanked with two turrets and big pepperbox towers with machicolation and a rampart walk."? Me neither.
But it's not only the vocabulary thing. It's the fact that I am going to be lecturing to French people about their own history, while simultaneously slaughtering THEIR OWN LANGUAGE.  I am immobilized by panic and pre-emptive shame.
By the way, Prince Charming above is Louis XI. And I am Amy, your guide, otherwise known as "that girl who is up Shit Creek with only a French dictionary and some index cards for a paddle".