Posted on May 30, 2017 by amy
I have some news for you.
It's big news.
Very big.
From ComingSoon.net

Amy Plum's Dreamfall Novel Optioned for TV Series
Amy Plum's thriller Dreamfall has been optioned by DiGa for a TV series
YA writer Amy Plum's novel "Dreamfall" has been optioned by DiGa Studios to be made into a TV series, according to Deadline. The novel has yet to be published, though it's expected to be released on May 2, 2017 by HarperTeen. It's the first book of her newest YA horror duology. The sequel "Neverwake" will be released in May 2018. The story is about an experiment to cure chronic insomnia that goes terribly wrong. The teenage subjects of the experiment fall into a joint coma, and, like the urban myth, if you die in your dream, you die in real life.
Here is the Amazon description for "Dreamfall": "Seven teenagers who suffer from debilitating insomnia agree to take part in an experimental new procedure to cure it because they think it can't get any worse. But they couldn't be more wrong. When the lab equipment malfunctions, the patients are plunged into a terrifying dreamworld where their worst nightmares have come to life—and they have no memory of how they got there. Hunted by monsters from their darkest imaginations and tormented by secrets they'd rather keep buried, these seven strangers will be forced to band together to face their biggest fears. And if they can't find a way to defeat their dreams, they will never wake up."
DiGa Studios, known for MTV's Teen Wolf and Scream, is currently in production on the feature film Eat Brains Love, which is also based on a novel. "Amy Plum's 'Dreamfall' is a riveting, nightmarish thriller with great characters and a fantastic premise that immediately captured our imagination and drew us in," DiSanto, CEO of DiGaa Studios told the site. "The book's vision and voice is a perfect fit for DIGA's creative sensibility, and we are thrilled to bring this to the screen."
Plum is most well known for her "Die For Me" series, which was an international best-seller. She's also known for the "After the End" series. Have you guys read "Dreamfall?" Are you interested in the film? Who would you like to see cast? Let us know in the comments or tweet us @ComingSoonnet
——
I am so excited about this, I can't even tell you.
To all of you…THANK YOU!!! You have all brought me and my books this far. I can't wait to see how much further we can go!
You can check DREAMFALL out for yourself here: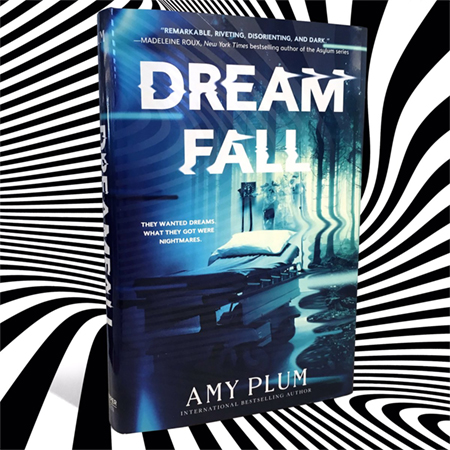 --------------------------------------------------------------------------------------------------------