I have had a few diehard DIE FOR ME fans write me lately to say that they weren't big readers of horror, therefore they weren't sure they would like DREAMFALL. I actually wondered myself if my readers wouldn't mind genre-hopping, but sincerely hoped they would give it a try. Well, here's a letter that cleared up that quandary for me!
This is from a teenager in Norway who has been an avid reader since the very beginning of the DIE FOR ME series. She won an advance reader copy of DREAMFALL in one of my contests, and was thoughtful enough to send me this letter afterward. I have cut out parts and blurred others that might be spoilers, so it's 100% safe to read!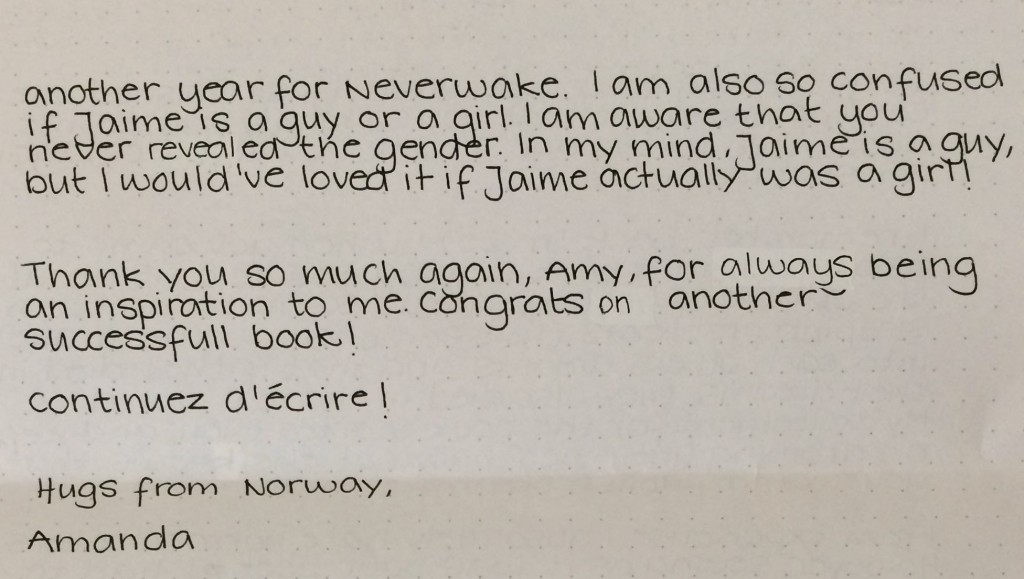 And there is Amanda's verdict! I hope all of you DIE FOR ME readers will give DREAMFALL a try, and I hope even more that you will love it as much as she did!
(More on the mysterious Jaime to come in a blog post soon!)
(And OMG, Amanda's handwriting !!!!! )
Only a few weeks until it releases (May 2), but you can pre-order it here: