So happy to have my first in-person interview for Dreamfall. It's one that ALL OF YOU can attend because it's live on Facebook. (And I'll be giving away an ARC!)
Join me on Rooftop Ramblings this Saturday (March 4) at 2pm Paris time (that's 8am New York time) by going to this Facebook page: Paris in Person. If that's too early for you, the video will be posted later. The interview is with Boris and Sam, these two guys from my book club: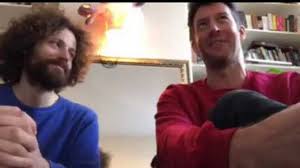 Who knows what they'll ask? (Be prepared for anything.)
And if you send a question ahead of time, I'll put your name in the hat to win an ARC of DREAMFALL. Your question can be about anything – just send it any time between now and 8am EST to : podcast@parisinperson.com
See you Saturday!