Posted on January 11, 2016 by amy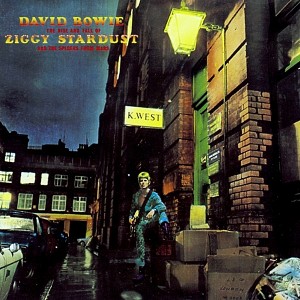 My earliest memory of David Bowie was buying his The Rise and Fall of Ziggy Stardust album at a garage sale in Birmingham, Alabama. I brought it home, having no idea what to expect, and was completely blown away. It made me feel things I had never felt. It made me feel wild, creative, subversive. It made me dream.
For at least a year it sat on a shelf in my closet between my Barry Manilow and Amy Grant albums and silently mocked its neighbors with its superior European coolness.
My next memory was from 9th grade: burning that album in a bonfire with other "evil music" as defined by a branch of the 1980s evangelical movement in Alabama. Some traveling evangelist with a book out on the evils of rock music had scared the crap out of me and I, like the brainwashed follower I was, obeyed. I remember the thrill of buying the album again as a CD a few years later and listening to it OVER and OVER and thinking, "If this is evil, then I'm ready to sell my soul."
That experience taught me that the true evil is not in expressing yourself in a way others might fear or despise. It's in condemning and banning creative expression. In destroying art.
All of my respect to this creative force in human form. RIP David Bowie. You are and will always be a giant in my personal pantheon.
--------------------------------------------------------------------------------------------------------