"The plane trip is interminable. There are times when I wish revenants could sleep, and this is definitely one of them. Gold chartered a four-person jet, which would normally be sufficient, but the way things are going, I wish we were on a jumbo, with rows and rows of empty seats between us.
Once he got over the shock that he'd been tapped to go to Paris, Faust had just enough time to get his hands on a French guidebook, and began practicing phrases on me as soon as the plane took off.
We're two hours into the flight and he's still on, 'Où est la gare?'
'Faust, you're not going to need a train station,' I moan.
He nods and flips through to another page. 'Voulez-vous dîner avec moi ce soir?'
'What is this?' I ask, and pluck the book out of his grasp. The chapter is entitled, 'Relationships and Dating.' I toss it back to him, and, leaning my head back against the headrest, wearily respond, 'You're not going to pick up a French girl by asking her out to dinner. You've got to begin with compliments. Start with something safe: her eyes. Her smile.'
I feel little darts of hatred piercing my skin, and turn to where Ava sits ensconced behind a laptop. She has been pointedly ignoring us the whole time, but now she's giving me a look of unadulterated disgust.
'What?' I ask, throwing my hands up in frustration. I don't understand what this woman's problem is with me.
She just shakes her head and goes back to typing. A pencil is tucked behind her ear, lending her appearance the slightest hint of naughty librarian. Interesting. Stop it, Jules, I chide. This girl is dangerous."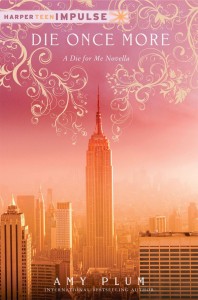 DIE ONCE MORE releases February 3. You can get it here: (Amazon/B&N).