"Gold's obviously been here before—he doesn't give the room a second glance—but I am mesmerized by its contents. Art. Everywhere. I can't help myself: I have to look, and wander from picture to picture, inspecting them carefully. There are several examples of pop art by artists whose names sound vaguely familiar. A framed Velvet Underground poster hangs on one wall, signed, 'To Ava, my one true love (among many), Lou' and under that, 'Sisters in crime: Ava + Nico'. A Salvador Dali sketch stands framed on a table: a nude woman with a bouquet of flowers instead of a head, with the dedication, 'To the divine Ava', scrawled underneath.
And above the mantel is the pièce de résistance: a giant silkscreen of Ava's head by Warhol himself. In it, a patterned turban hides her hair, and her chin is raised as if in defiance. With her dark-copper skin, high cheekbones, and almond-shaped eyes, she looks like some sort of native warrior: but native to where, it's not clear.
'Who were you?' The words leave my lips before I can stop them.
'Doesn't matter,' she says, and Gold looks up abruptly from the dog-fest. He looks as confounded by her brusqueness as I am.
'Ava was a part of Andy Warhol's Factory—she was his favorite for a couple of years,' Gold says, before she shoots him a look that forbids him to spill more. 'Now, of course, she is a well-respected art historian, specializing in American art of the sixties and seventies. Not much of an overlap with my own specialty of antiquities, of course, but we historians stick together.'
He smiles up at her, breaking her stoniness enough to let a fond smile shine through. It's obvious: They aren't just kindred. They are friends.
Gold stands and straightens his suit. 'Well, this isn't a social call, my dear, so let's get down to business. Jules was invited to the wedding of two of his Paris kindred. It's taking place in just under two weeks. And you're going with him.'"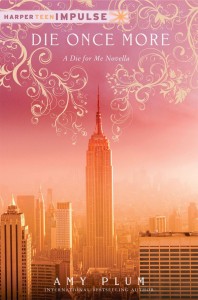 DIE ONCE MORE releases February 3. You can get it here: (Amazon/B&N).