Posted on January 31, 2015 by amy
Jules, Ava and Faust fly from New York and arrive at La Maison days before Ambrose and Charlotte's wedding:
"Gaspard appears at the top of the double stairway, wearing an ancient silk waistcoat and a cotton shirt with enormous open cuffs over a pair of high-waisted dress pants. 'Jeanne, I really don't think period dress is necessary except for the bride and groom,' he calls, as he fiddles with a cufflink. And then he looks up and sees us.
His crazy gray-threaded black hair sticks up as if electrified—as per norm—and an uncharacteristic broad smile spreads across his face. 'You're here,' he says to me, and makes his way down the stairs. 'We didn't expect you for another half hour. Traffic must have been light.'
'No, but Ambrose was driving,' quips Charlotte, provoking a stranglehold bear hug from her fiancé.
'You must be Mademoiselle Whitefoot,' says Gaspard, holding a hand out to Ava. But I miss the rest of that introduction, because in from the next room walks Vincent. And his eyes are fixed on me. There's an expression on his face that I can't read, and am not sure I want to. Anger? Disappointment? Betrayal?
Although we spoke briefly on the battlefield, there were other things vying for our attention. Like swinging swords. And flying arrows. I said good-bye when I left. Told him I couldn't stay. But there was blood on our skin and ash on our faces, and I didn't even look him in the eye.
No, the last time we talked—truly communicated—was at the airport in New York. When I told him I was in love with his girlfriend and that it was tearing me apart to see them together. I admitted to my disloyalty. And then abandoned him.
Ignoring the others, he walks straight up to me, eyes burning, and I think for a moment that he's going to hit me. Punch me right in the face. But instead he grabs me and wraps me in his arms, squeezing the breath out of me. And speaking quietly enough that the others can't hear he says, 'All's forgotten. There's nothing left to say. I'm just glad you're back. We missed you. All of us.'"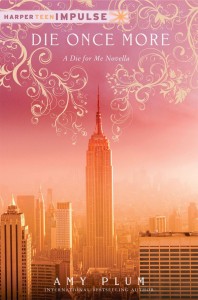 DIE ONCE MORE releases February 3. You can get it here: (Amazon/B&N).
--------------------------------------------------------------------------------------------------------