Posted on March 14, 2013 by amy
This is Bridget Zinn, librarian and YA author from Portland, Oregon.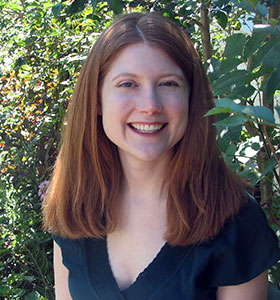 A couple of years ago I donated a French care package full of scrumptious goodies to a charity auction to help pay for her colon cancer treatments. At the time, Bridget was full of hope for life and excitement about the publication of her very first YA novel, POISON.
Not too long afterward, I was very sad to hear that Bridget had died. She never got to see her book come out. She never got to see the final version, which was released this week, on March 12.
I preordered it a few weeks ago…
Today, I am honored to take part in the POISON blog tour, in which we're celebrating Bridget's first book by telling about one of our own firsts. But before I tell you about my VERY FIRST JOB, let me tell you more about Bridget and her book.
About Bridget Zinn
Bridget grew up in Wisconsin. She went to the county fair where she met the love of her life, Barrett Dowell. They got married right before she went in for exploratory surgery which revealed she had colon cancer. They christened that summer the "summer of love" and the two celebrated with several more weddings. Bridget continued to read and write until the day she died. Her last tweet was "Sunshine and a brand new book. Perfect."
Bridget wanted to make people laugh and hoped readers would enjoy spending time with the characters she created. As a librarian/writer she loved books with strong young women with aspirations. She also felt teens needed more humorous reads. She really wanted to write a book with pockets of warmth and happiness and hoped that her readers' copies would show the watermarks of many bath time reads.
Sixteen-year-old Kyra, a highly-skilled potions master, is the only one who knows her kingdom is on the verge of destruction—which means she's the only one who can save it. Faced with no other choice, Kyra decides to do what she does best: poison the kingdom's future ruler, who also happens to be her former best friend.
But, for the first time ever, her poisoned dart…misses.
Now a fugitive instead of a hero, Kyra is caught in a game of hide-and-seek with the king's army and her potioner ex-boyfriend, Hal. At least she's not alone. She's armed with her vital potions, a too-cute pig, and Fred, the charming adventurer she can't stop thinking about. Kyra is determined to get herself a second chance (at murder), but will she be able to find and defeat the princess before Hal and the army find her?
Kyra is not your typical murderer, and she's certainly no damsel-in-distress—she's the lovable and quick-witted hero of this romantic novel that has all the right ingredients to make teen girls swoon.
Doesn't that sound fabulous?!?!
Here's how to purchase your copy:
Add Poison to your Goodreads pile!
Okay…so here's my part of the blog tour, in which authors are asked to talk about one of their "firsts"…
AMY PLUM: MY FIRST JOB (AND HOW IT CHANGED MY LIFE)
My first real, non-babysitting job was at Orange Julius at Brookwood Mall, Birmingham, Alabama. I was 15. I wore a polyester outfit and matching visor in an eye-catching palette of poop tones (brown, brownish-yellow, brownish-orange). The job involved serving chili-cheese-covered hot dogs and fruit flavored drinks called Orange and Strawberry Juliuses. The only job skills required were the capacity to count change in your head, since the ancient cash register didn't do that, and the ability to turn on a blender and slather hot dogs with chili-cheese sauce.
I was embarrassed by my outfit. I felt ashamed any time my crush, Joe Johnston, wandered by with his stoner friends. And I was completely mortified by the fact that, as the newest employee, the job of taking out the trash fell to me.
Taking out the trash meant rolling a big plastic trash can across the cobblestone floor of center atrium of the mall. The noise the garbage can made as it clattered across the stones was so loud and attention-grabbing that I might as well have been banging a metal ladle against a frying pan.
Let me remind you that I was wearing poop-colored polyester bell bottoms, and this was the early 80s.
The faster I wheeled the garbage can, the louder it clacked against the stones. If I booked it across the atrium the noise level raised to an alarming machine gun-style rat-a-tat, turning every head in the vicinity. And if I went slowly it just dragged out the agony.
Here I must mention that Brookwood Mall was where all of the teenagers from my high school hung out. And the place they chose to sit was around the fountain in the center of the atrium, smack dab in the middle of my path. Of course, they found my garbage trek highly amusing.
One I reached the Employees Only door on the atrium's far side, I huddled alone next to my garbage can, shaking and out of breath from my humiliating trek, before proceeding to the service elevator that carried me and my smelly burden to the ground level behind the mall where the huge metal trash receptacles were hidden. I would then lift the burgeoning trash bag out of the rolling can and heave it through a little window in the side of the metal receptacle.
Quality trash bags were not considered a priority by the management of Orange Julius. So inevitably the thin bags would burst as soon as I hefted them high enough to jam through the window. Or sometimes my arm would just go right through, plunging into a putrid sludge of rejected mustard, ketchup, and chili cheese.
In either event, many was the occasion where I stood next to the metal bin behind the mall, arm covered in chili sauce, crying.
It was on one of these occasions that I came up with my plan. I would escape Alabama, and its jeering teenagers, and move far far away. Like to New York. Or even London, where I would move deftly within a high society that had never heard of polyester or chili cheese dogs. But to do that, I had to prepare myself for how high society worked. I realized that with my modest upbringing, I would never reach my goal.
So I bought a 500-page copy of Amy Vanderbilt's Complete Book of Etiquette and memorized the whole thing. I knew which spoon to use for aspic. I knew acceptable gifts for a nun's birthday (television, luggage, or cash).
I even knew how to address the American ambassador (The Honorable). Which came in handy about ten years later when he invited me to a cocktail party at his residence in Paris.
True story.
Of course, when the ambassador's butler took my coat, I discovered that I had forgotten to zip my cocktail dress up the back. But hey, I had reached my goal. And deep inside me there was a chili-smeared, polyester-clad teenager who was jumping around, whooping, and cheering me on.
To visit other sites in Bridget's blog tour, go here, to Inara Scott's site. And be sure to stop by Bridget's page here.
--------------------------------------------------------------------------------------------------------