Posted on March 31, 2013 by amy
Yet another competitor for the Hot Jules Shot-of-the-day: Adam Brody.
We're on DAY 7 already!!! Which means only 2 days left until your eReader downloads DIE FOR HER!!! What? You haven't ordered yet? Jules is very very disappointed in you. Just kidding. He loves you no matter what. But if you do want Jules's story here's where to click to buy the eNovella which I wrote from his point of view:
Today I have an interview that Jules did last year. I can't remember which blog it was for (sorry!), but he gives some tantalizing responses!

So you're, like, an artist, right? Can I be your muse?
You have the beauty of a muse. If you can sit still for a few hours at a time, I'll even invite you to be my model. Clothing is optional.
What's your most favorite piece you've ever created? And why?
Well, my favorite paintings are those with women in them, funnily enough. And since you mentioned muses, there's this American girl one of my friends is dating who has kind of been my muse lately. Although I've done several full-length oil paintings of her, my favorite is a little pencil sketch I did when we were in café once. This girl's face shines with the purity and innocence of Botticelli's Venus, so that's how I depicted her. I wonder if she kept it.
(Amy's note: it's framed in Kate's bedroom.)
If you knew that saving the woman you love would cause you to lose her, would you still do it?
Yes. That's a bit of a trick question, because if I didn't save her I would lose her anyway. (She's be dead.) But if you are asking the question "which comes first for a bardia: love or sacrifice?" sacrifice is unquestionably what we would choose. Saving human lives is the reason we're here. Those of us who find lasting love are rare enough. I don't even aspire to it. Loving a human is usually forbidden by my clan leader, Jean-Baptiste, and I haven't yet met a bardia who has swept me off my feet.
What other artists are your greatest inspirations?
Those who I knew during my human life: Modigliani, Soutine, Brancusi, and of course the father of us all, Edouard Manet,
Always, sometimes, never?
– Brush your teeth everyday? Always. (Three times a day to stay minty fresh.)
– Kiss on the first date? Sometimes. If I can tell she wants to.
– Bros before hos? Never. Kindred before outsiders.
– Read a book? Sometimes. Most of my free time is spent making or seeing art. So maybe just a book or two a week.
– Call back within 24 hours of the first date? Always. Even if it isn't someone I'm going to see again I would always thank her for her time.
Describe your perfect Parisian date.
Go to an art exhibition opening party (they're called "vernissages"), then on to cocktails at a bar-peniche (one of the boats floating in the Seine), and then on to dinner at an intimate restaurant. After that, a walk in the moonlight—nothing's so magical or romantic as Paris at night. And then maybe, if I'm lucky, a kiss.
Since it's Day 7, we have 7 prizes!! The winner gets their choice of one of the following books: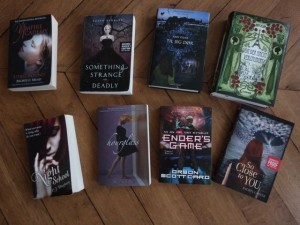 Plus the 2 bookmarks, 2 bookplates, rubber Paris bracelet AND pink sparkly Eiffel Tower pin!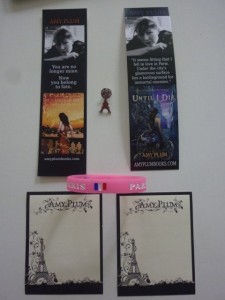 And to enter to win these prizes, all you have to do is leave a comment with your own question for Jules. I will draw randomly from all entries, but tomorrow Jules will answer a few of your questions for you! Ask away!!!
--------------------------------------------------------------------------------------------------------