As I mentioned on FB, I have a new batcave for the next 6 days. I'm at the Performing Arts Foundation about an hour and 1/2 outside of Paris, trying to make major headway with JUNEAU. If you don't want to click through to see what it is, I'll just say that PAF is this enormous convent school with hundreds of rooms that a Dutch guy named Jan bought and renovated so that artists/dancers/writers can stay there and work.
Seriously…hundreds of rooms. Or at least a hundred. I got lost today when I went exploring, and had to cross from the east wing to the west through the (wet) courtyard in my socks, coffee cup in hand.
When I got here last night, Jan announced that he was giving me the best room and not to expect the same one next time I visit. (The taxi driver from the tiny village train station told me that EVERYONE comes back.)
And when I explored this afternoon, I found that he was right. Most of the rooms are little clean, comfy cells with a single bed. He gave me this: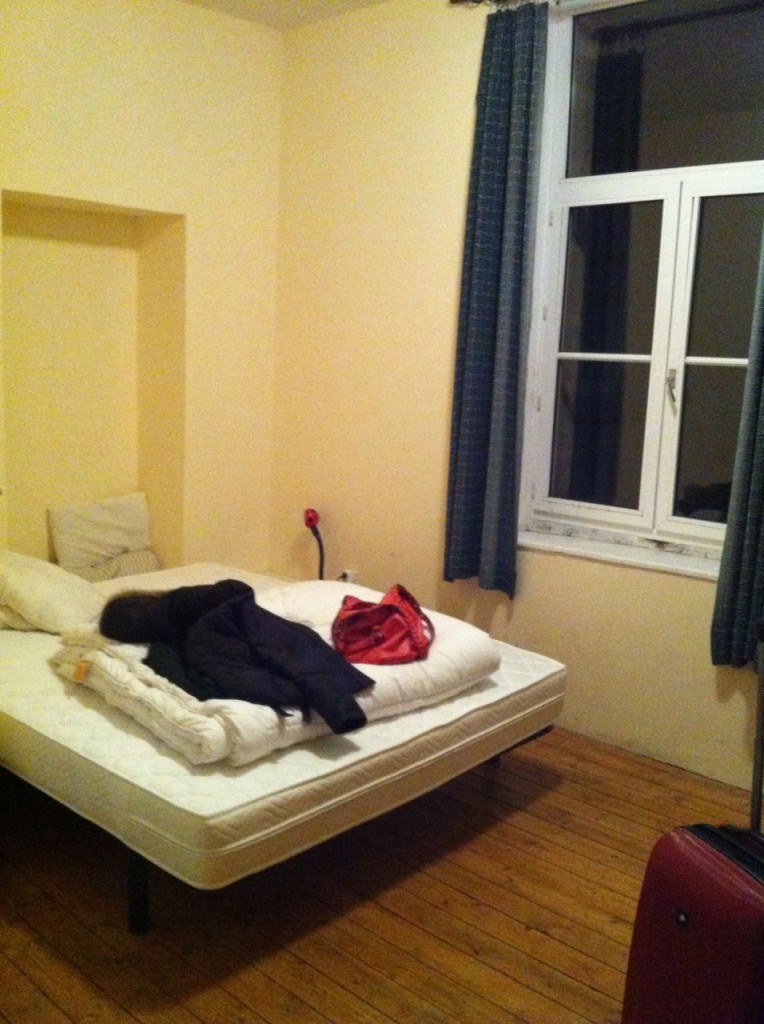 double bedroom with a bathroom in it (most share an outside bathroom) attached to this: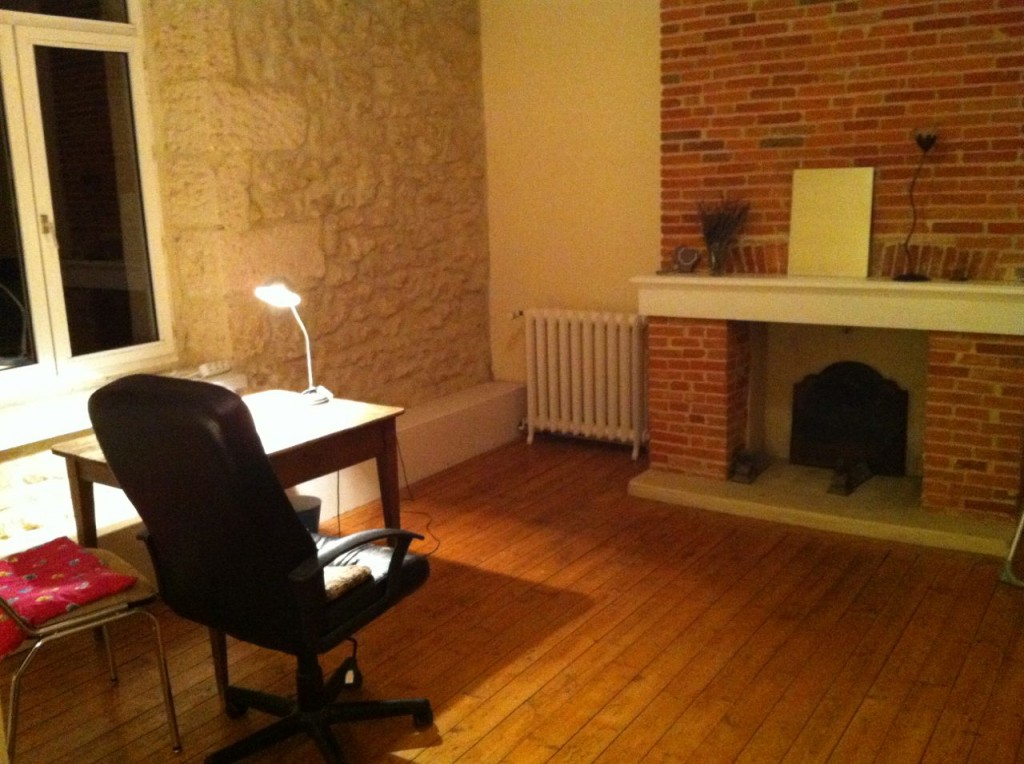 …my own study! With a cute fireplace that I dare not test out. Which means that I've been sitting next to that heater that you see on the left, and not at the desk. Which is FINE BY ME!!!
People I've met so far: British guy doing PhD in visual philosophy. New York woman doing mystery project. Swedish girl and Croatian guy choreographing a dance that is basically about what happens to your body in the ground after you're dead. Guitarist from Antwerp. Novelist from Vancouver BC. Italian woman doing her PhD on dance/movement and healing of AIDS victims. And, of course, Jan, who slapped down the flyer for the week-long sold-out dance performance he danced in last week in Paris where everyone is naked with headphones on. (So yes, I have seen a picture of my host's a**.)
These are the rules:
Rule #1: Don't let the peacocks into the convent because they will poo and smell the place up. Even though they REALLY want to come in and sit outside the windows and stare in at you.
Rule #2: Everyone buys food and cooks for themselves. And the supermarket is two miles away downhill. And here's a bike. (Which means 2 miles uphill with shopping bags hanging from your handlebars.)
Rule #3: Figure it out yourself. Hence my spending 5 minutes in front of a coffeemaker pressing buttons in a futile attempt at an espresso. Hence my solo tour through the premises, wandering up and down dark staircases, across long hallways, past the Swedish girl and Croatian guy huddled under a blanket watching an Italian film for dance inspiration.
Rule #4: Contribute. I got in late last night. Too late to ride a bike to the supermarket. PhD philosophy guy insisted on sharing his dinner with me. So tonight I made a huge batch of Brussels sprouts cooked in bacon grease and sauteed in chicken stock (with bacon then added back in at the end), and shared it with all of the meat eaters. (All the veggies were eating early, so I hid my bacon under a paper towel so as not to offend them.)
That is the epistle of my first day at PAF. I can only imagine that it will get more colorful the more I explore. And of course, I will post it all here.