Last year I ran an offer for signed bookplates, and people seemed to enjoy it so much that I feel like doing it again. If you haven't already seen them, here they are. Aren't they pretty? The drawings were done by Johanna Basford, the Scottish artist who drew the swirls on the cover of DIE FOR ME and UNTIL I DIE.
And this is what it will look like inside your book: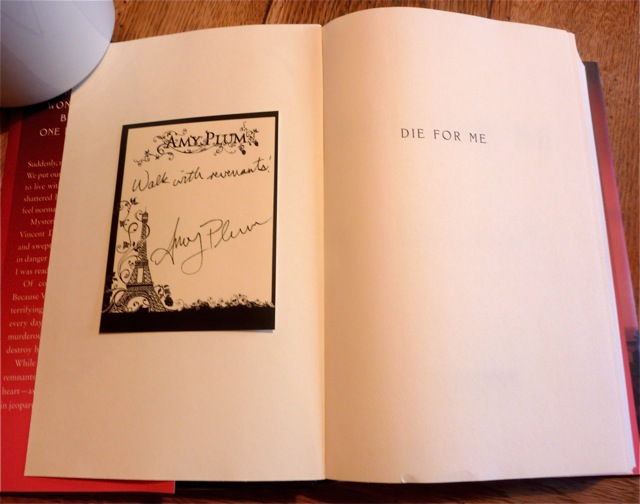 The plates are my gifts to anyone who writes an Amazon and/or Barnes & Noble review for DIE FOR ME or UNTIL I DIE. Just send me an email to amy attt amy plum books dottt com (take out the extra "t"s, add appropriate punctuation, and squish everything together) telling me what your Amazon and/or B&N user name is and your mailing address, and I will send it to you.
Don't worry, you don't have to write a novel-unless you want to. Just a sentence is fine! And let me make this very clear – you can leave WHATEVER review you want. I am not buying positive reviews here. Just say what you thought of the book(s), and that's good enough for me!
You can receive a total of 4 bookplates – two for the 2 books on Amazon and two for the 2 books on B&N (which means 2 for you and 2 for a friend if you wish), and the offer is international.
Thank you all for your enthusiastic support!