Posted on August 25, 2012 by amy
Thursday
I faff around my hotel for the morning until noon, at which point I make my way for the first time in another direction, which leads me straight through the main street of the Fringe Festival.
It's time for me to make a confession. I don't particularly love theater. Especially street theater. In addition, mimes totally freak me out, and I will skirt a block out of my way to avoid them.
So here I am, walking through these throngs of people who are feverishly trying to pass out flyers for theater stuff and there are so many of them that they have all come up with a different scheme to get your attention. They are dressed as clowns, they are naked and tied together, they are lying on a blanket smeared with fake blood, they are leaping, grimacing, waving rubber chickens about, and yes – miming. I walk as quickly as I can through them, dodging guys in kilts who skip around to bagpipe music, girls in Shakespearean dress who bow low to me while shoving their paper in my direction, and a gang of people made up as woodland animals who I guess are supposed to look cute but who I sure as hot damn am going to see again in my nightmares.
Finally I arrive at the Scottish Storytelling Centre, where Linda awaits me for lunch. We have tasting platters and talk about writing and books and Neil Gaiman and touring and are still in full chat mode when Linda's next date arrives. She introduces us, and it turns out to be Philippa Cochrane, who will be chairing my solo event on the 27th. I stay with them for a little while and tell them my Lucia-thought-my-grandma-turned-into-a-zombie-after-she-died story and then leave them to get down to their meeting.
I try to take another road back to my hotel in order to avoid the scary festival people, and find myself on this beautiful street,

which has a ton of shops, in one of which I found the perfect gifts for my kids.
Unfortunately the beautiful curvy road ended in the wrong place, forcing me to retrace my steps and dive back headfirst into the clown mob. I think I might have actually held my breath. Which I let out abruptly when I saw this sign on the side of an ancient building: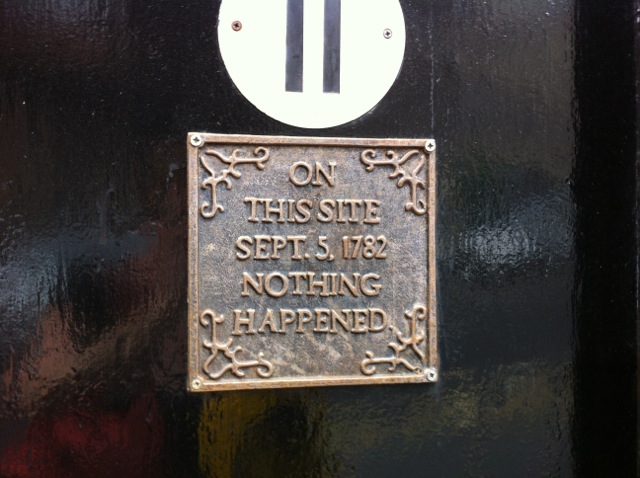 I re-emerge for a talk by Patrick Ness, who has packed the house with adolescents who watch his lips as if he's spitting pearls. Keith Gray chairs the talk, and the repartee between the two men, who are friends, makes the event even more entertaining. I line up and get him to sign A MONSTER CALLS for me afterward and discover that he too was traumatized by the film A THIEF IN THE NIGHT as a child raised in Evangelical circles in the 70s. (He turns to the festival worker standing behind him and says of the film, "It was basically child abuse.")
There is no haggis on offer this evening in the Author's Yurt, but I settle for something safe – a salmony pasta dish, and sit next to a woman who introduces herself as Janne Teller, a Danish author who lives in Manhattan and writes fiction. When I tell her I write YA, she says that one of her YA books, NOTHING, was banned in Scandinavia. Too existentialist and dark, apparently. Her description of it—a boy who stops going to school, sits in a plum tree, and tells his classmates that life is meaningless—has me immediately add it to my TBR list.
Janne lived in Paris for a while, and our conversation veers over to the French, and she gives me her very own pearls of wisdom. Once again I am bowled over by the automatic sisterhood shared by women from seemingly all cultures: we all experience the same joys and tragedies. Over the last few days I have dared to share some recent personal sorrows with some of the women I have met and have been immediately embraced and comforted by them.
Add those women's compassion to the fact that authors of fiction often wear their hearts on their sleeves, I know I am in the right place. With the right people. And as I fly back to Paris the next day to spend time with my children, I look forward to my return in 6 days.
--------------------------------------------------------------------------------------------------------