I know that my presence on FB and Twitter have been spotty lately. But let me tell you what's been going on!
I had an awesome Paris event at WH Smith with Claire Merle, author of THE GLIMPSE. (Thanks to all for showing up and being so enthusiastic!)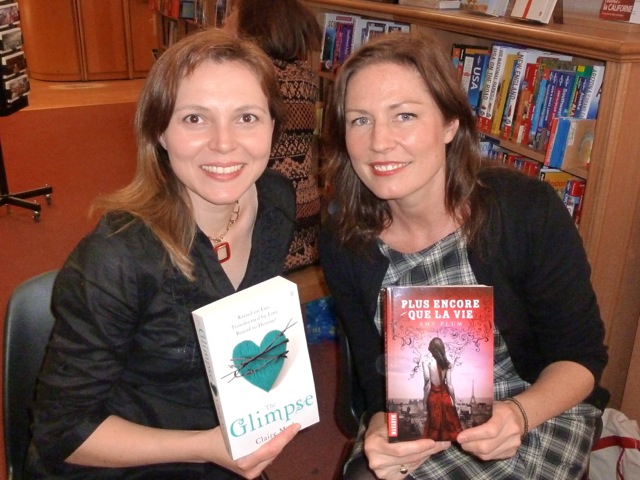 and then I had an event at the oh-so-cool Goth Parisian bookstore, l'Antre Monde (very suitably located next to Pere Lachaise cemetery):
(For blogger accounts of that event see Au Boudoir Ecarlate & Love of Book).
During that signing, someone asked if I would be doing other Paris events, and I responded that actually, yes, I was trying to set up an event for several YA authors in Paris in September. I was begged to reveal the names, but refrained since 1. the event wasn't 100% confirmed with my chosen location (Virgin Megastore) and 2. I had promised Francoise the scoop (since she's the one who answers all of my YA France questions, like…"If I were going to plan a multi-author event in Paris, where would it be?").
Then Yael, the most amazing bookstore employee EVER, showed up, said that she would ENSURE that the event happened at Virgin…and at 11pm THAT NIGHT, she sent me an email saying it was a done deal. (I suspect she called her boss at home. She will evermore be my superhero.)
I leaked the news to Francesca the next day, and within 45 minutes, this had shown up on AuBoudoirEcarlate's blog:
So the cat was out of the bag almost as quickly as I jammed it in there, and I wrote my three author friends who I had been plotting with for weeks to say, "Oh, guess what. We've got our event at Virgin. And all of Paris knows about it." Luckily, they are all three very laid back and did not come over to personally strangle me.
So…that's another thing I've been doing: planning a 1-week "workshop" in September with Josphine Angelini, Tara Hudson, and Anna Carey, in which we hang out and write in the French countryside for a few days and then venture to Paris for this mega-event (and maybe a bit of shopping).
I've been working on the extras for the UNTIL I DIE paperback, and believe you me, you WANT THOSE EXTRAS. As in Vincent POV kind of wanting them.
I have been planning my trip to the Edinburgh Book Festival, and got so excited about all of the amazing authors there are to see, that I tacked another week onto my visit and am now going for the 2nd and 4th weeks of August! (And might actually get to see my True Love, but will not reveal his identity until I hear I have successfully procured a ticket.) Yes, if you are there, you may buy me a pint. Although I already have a pub date with Suzanne Winnacker, I'm sure I can fit you in. 🙂
I've also been busy with my move to Paris, where I am now living full-time. I was reminded last week, after hearing of the death of one of my idols, Nora Ephron, of what she said about moving to New York:
"I'd spent those sixteen years imagining what New York was going to be like. I thought it was going to be the most exciting, magical, fraught-with-possibility place that you could ever live in…" "…a place where I'd be surrounded by people I was dying to be with. And I turned out to be right."
I totally agree with her about New York. But I have a similar view of Paris. I mean, how can't you love it when your dentist not only BELIEVES IN CLEANING TEETH (*cough* French countryside *cough*), but has published two chic-lit books and, while scheduling your next appointment, invites you to a literary evening? I left his office with sparkly clean teeth and a date with a bunch of French writers. Only in Paris, non?