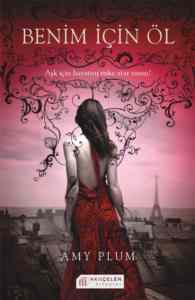 DIE FOR ME is out in Turkish! And Google Translate tells me that the title reads as "DIE FOR ME", so no fancy variations in this version. You can check out its page in Turkish here.
Turkey is really high on my list of places I want to go. I think a signing would be a REALLY good idea. Maybe for Book 3 since Constantinople/Istanbul appears in one of the revenants' back-stories. (Ooh – did I just give you a teaser for BOOK 3? I think I did!)
And just for your viewing pleasure, check out this paragraph:
Amy Plum, paranormal üçlemesinin ilk kitabı olan Benim İçin Öl'de (Die For Me), Amerika'da anne babasını trafik kazasında kaybedince, ablasıyla dedelerinin yanına taşınmak zorunda kalan Kate ile onun saf güzelliğine tüm benliğini kaptıran yakışıklı Fransız genci Vincent'ın ruhlara işleyen aşklarını anlatıyor.
I can't even tell you how crazy it is to see my name in a paragraph with all of those Turkish words. *pinches self* I actually read it out loud, just for fun. I'm very glad no Turkish people were around to hear.
Thank you Lauren Abramo (my super-duper foreign rights agent) and Arkadas Publishers for bringing Kate and Vincent to Turkey!