Since I'm going to tell you some stories about when I first moved to the French countryside, I need you to understand how basic (read…BAD) my French was when I got here. This is taken directly from my blog 5 years ago:
—–
I went to the pharmacy this morning to pick up some baby supplies. In France almost everything except perfumed soap and cellulite cream is located behind the counter, so you have to ask the pharmacist to get everything for you. Which means that instead of gathering up what you need and mutely handing it to the cashier, you are actually forced to talk.
So I walk into the one pharmacy in our tiny town (1300 inhabitants) with Max in the baby carriage and my dog Ella on her leash, and wait in line until it is my turn.
I am speaking in French, but here is a direct English translation of the transaction:
Me: Bonjour, Monsieur.
Pharmacist: Bonjour, Madame.
Me: I would like one of those thingies that you put in the baby's mouth so that it can suck.
Pharmacist: Pause of incomprehension. Is it a liquid?
Me: No, it is made out of plastic. It is for when the baby cries.
Pharmacist: Pulls out a pacifier.
Me: Oui Oui. Merci. And also, I would like one of those things that you put in the baby's nose when he has a cold to pull out the … (I don't know the words for "boogers" or "snot')… stuff that is inside the nose.
Pharmacist: Confused look.
Me: It looks like a ball on one end and is made of … (don't know the word for "rubber")… plastic. And you stick it in the nose and squeeze. Seeing that he doesn't understand, I mime a squeezing-under-the-nose motion, much to the amusement of the people in line behind me.
Pharmacist, as serious as the grave: Pulls out a weird contraption that has tubes and syringe-looking appendages.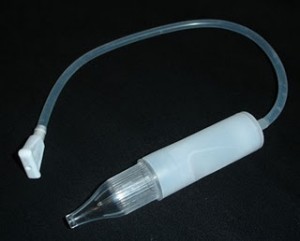 Me: No, that's not it. It's round on one end and…(don't know the word for "pointy")… little on the other end.
Pharmacist: Confused look.
Me: Give me a pen and I will draw it for you. I draw a nasal aspirator.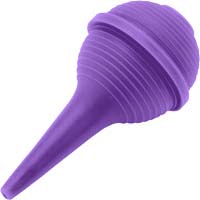 Pharmacist: Ahh! He pulls out a nasal aspirator. In France we use this for… (and I didn't understand the rest – something like "putting medicine in the ear".)
The pharmacist pulls out the tube-and-syringe contraption that he showed me before. "This is what we use to clean the baby's nose." He then demonstrates sticking one end in the baby's nose, and putting the other end of the tube in your mouth so that you are actually SUCKING THE SNOT OUT OF THE BABY'S NOSE.
Me: Make horrified face.
Pharmacist, shaking head miserably: You don't actually get the mucous in your mouth. See, it is trapped in this chamber here far away from the mouthpiece.
Other customers behind me: Trying to stifle the giggling that has been going on since my nasal charades.
Me: Desperately pulling on Ella's leash, since she has her nose stuck deep into the back-end of a woman who is bending over, which the woman will realize as soon as she stands up. Max starts screaming. Panicking, I say, OK, I'll take that (point to the pacifier) and this one (point to the snot-sucker).
I pay quickly and beat a hasty retreat, amid glares (from the dog-groped woman) and laughs (from everyone else), promising myself never to return without a list that has been meticulously translated ahead of time.