It's been five weeks since I got home from my book tour. But because of jet lag, catching up with my family and work, and just the overall surreal aura of the whole thing, it feels like the week-long event occurred sometime in a past life. Which makes me want to get the details from the last two stops down for posterity's sake before they start going all fuzzy and inaccurate. (What do you mean two dozen wonderfully interested and interactive attendees? I remember reading to a stadium full of rabid fans trying to claw their way to the stage!)
Ahem. So here's how it went.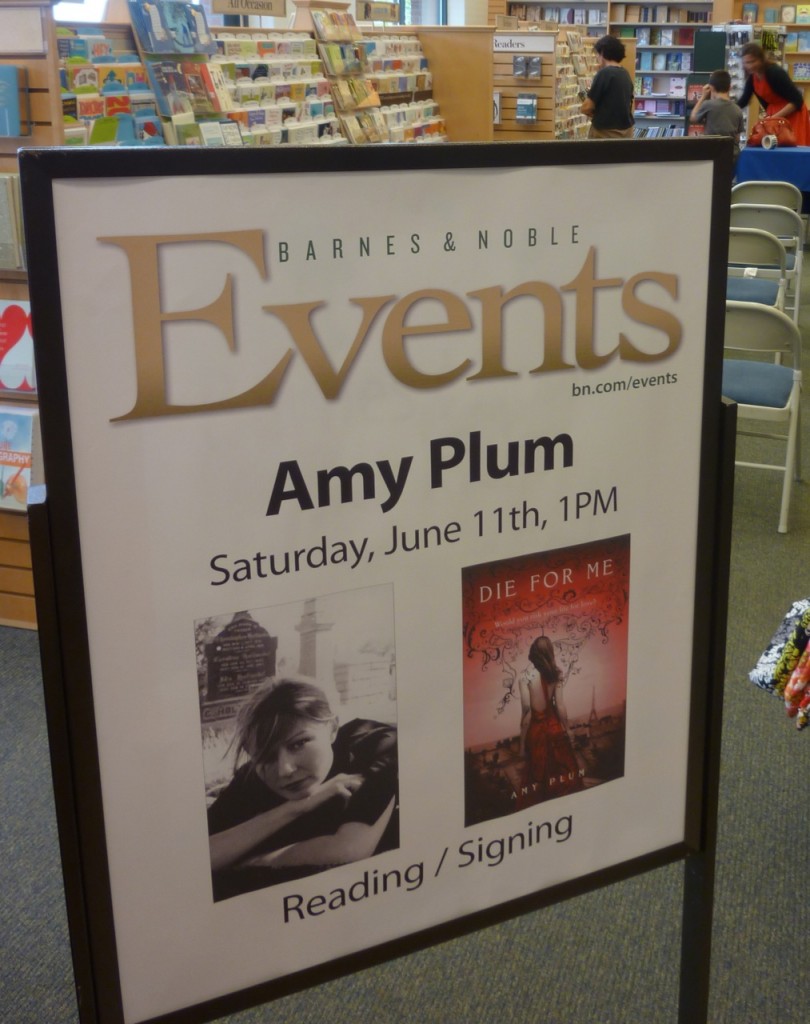 My host for the New York events was my friend Claudia, librarian and Beta-reader extraordinaire. She not only organized the two events, but her husband Bill (old friend and Sotheby's colleague) picked me up at JFK and drove me two hours to their house, where they fed me a fabulous Mexican meal and let me go to bed at a ridiculously early hour.
The next day began at Newburgh's Barnes & Noble, where I read my book in public for the very first time. I had practiced that morning for Claudia and Bill, who had timed Chapter 4 as taking 8 minutes, which seemed a reasonable length for a public reading.
The group was small but attentive, and asked a lot of questions. After the huge crowds that the Dark Days tour pulled in, it was a nice change to be able to speak to everyone individually.
After a delicious crab-cake sandwich lunch at one of my friends' favorite locals, we drove to The Tuxedo Park Library, where Claudia is the Director. She had all sorts of delicious treats set out for attendees and directed me in to a gorgeous reading room, where the first person I met was Carla of Emberchyld's Blog. She had driven two hours after an ice skating tournament to come, which won her dedicated DIE FOR ME fan-of-the-day award.
There was a book club in attendance who had just read DIE FOR ME, as well as several teenagers who all had questions about the story and writing process.
And then, smack-dab in the middle of questions I recognized two friends from university and had a mini-freak out ("Hey! I know you! And I know you too!"). I actually knew that they might be coming, but hadn't seen them for twenty years and had been staring at them for the last half-hour without realizing who they were.
This time the hour flew by. I wasn't nervous. In fact, I was having so much fun that I was surprised when it was over. I felt like calling HarperCollins and saying, "Hey – I can do this now. Sign me up for another couple of weeks!" But alas, the tour was over. And to celebrate the end, Claudia planned something that took me back to the very start.
When I was just beginning to write DIE FOR ME, I was constantly chatting online about it with Claudia and two of her friends, Nancy and Christine. They helped me choose anglophone-friendly names for my characters and gave me input at the very beginning. I had never met them in "real life", so Claudia invited them over for some celebratory champagne and we chatted and marveled about the amazing road that the book had traveled from those very first days when DIE FOR ME was still SLEEPWALKING and Vincent was still "Aurelien". It was the perfect way to say "au revoir" to an incredible fairytale of a week.