Yesterday, Kari of A Good Addiction announced the newest of news in the DIE FOR ME publishing story. It seems that at this point, there's something happening almost every day. But comparatively, this news is HUGE: a cover change. Or in the words of my editor, "A Jacket Switcheroo".
You all know the original Kate-in-a-Boat cover. Here it is in all of its magnificent glory: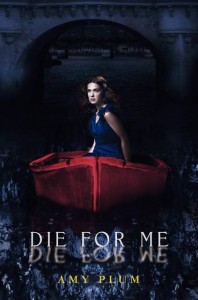 Well I got a note from my editor three weeks ago telling me that when the marketing people at Harper saw the British cover, they fell in love with it. And though everyone raved about the Kate-in-a-Boat cover, Kate-on-a-Roof seemed like a "bigger" cover to "people in positions of power". So they got in touch with Little, Brown UK, got Atom's jacket files, and tweaked them a little bit to create this…the NEW HarperTeen cover of DIE FOR ME:
Since the announcement yesterday, people have been writing me on Twitter asking, "But isn't that the UK cover?" So I have used my amazing and highly advanced Photoshop skills to put one cover next to the other (below) in order to demonstrate the differences. ALERT: since these are images that have been emailed back and forth a dozen times, the colors might not be COMPLETELY ACCURATE. But this will at least give you an idea:
I think they're both gorgeous, and the small differences in font and hue make each distinctive.
BUT…as I said on Facebook yesterday, even though I love the new cover, I also loved the old one, so it is sad to say goodbye. And the saddest part of all is that we won't have the lovely Michelle Cartwright gracing the cover. But Michelle – if you're reading this, I want you to know that you will ALWAYS be Cover-Kate in my mind.
And on a happier note, a HUGE congratulations to Mark Ecob, the original cover designer, and Johanna Basford who calls herself Ink Evangelist, but who I call "Queen of Swirls", for making a cover that was so beautiful it went global! And congratulations to me for having garnered the favor of the Cover Fairy*. I must have been Mother Theresa or someone of equal standing in a past life to have been granted such a stunning cover for my very first book!
*Thank you Atom. Thank you HarperTeen.
You both make kick-ass Cover Fairies!