Posted on August 4, 2017 by amy
Paris writers and readers — I'm giving a 1-day writing workshop here in Paris on November 5, and this time it's not just for teenagers!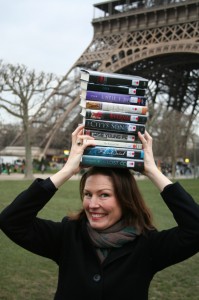 My course is the only one being offered in English at Paris's new creative writing school Les Mots.
It's titled BUILDING BLOCKS FOR WRITING FICTION and this is what it's about:
"From creating relatable characters to writing dialogues in their individual voices to setting them in a three-dimensional world—there are a multitude of skills fiction writers use to make their story emerge from the page and engage the reader.
This workshop is for writers working in English—whether you are dabbling in fiction for the first time or desiring to take your writing skills to the next level. Exploring examples from literature, you will use a wide range of tools to develop your craft. We will delve into different techniques for fiction writing, covering inspiration, character creation, world building, setting, and dialogue as well as other topics along the way. Engaging in critical dialogue to appraise your work, a focus will be placed on learning through writing instead of a teaching-centric course.
Whether you arrive with a partially-developed story or just the desire to begin a story, you are guaranteed to leave the workshop with stronger writing and a firm grasp of the tools available to you."
Click here for more information and sign-up. Hope to see you November 5!
--------------------------------------------------------------------------------------------------------