Who knew that getting a TV deal would mean emailing people non-stop for the next few days!

But I'm making up for the days I missed on the DREAMFALL Dreamfest by running 3 separate contests. Here are 3 ways for you to try to win a signed copy of…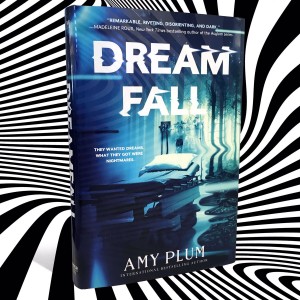 1. Instagram: Post a photo on your Instagram feed that represents your worst nightmares, using hashtag #DreamfallNightmare to win a signed copy of Dreamfall. I will choose a winner on Dreamfall's release day: May 2!! Int'l. (See my post here.)
2. Twitter: Retweet this for another chance to win.
RT before 5/2, 12 EST for a chance to win a signed copy of @amyplumohlala DREAMFALL. Int'l. #matrixmeetsflatliners http://amzn.to/2pwBGuS
3. Facebook. Click this link
and answer this:
Give me the name of one actor you think would be great in the TV adaptation of DREAMFALL (just optioned by DiGa Studios!) in the comments below. On release day – MAY 2 – I will randomly choose one comment to win a signed and dedicated hardback copy of the book! (International)
Good luck! And don't take your chances – pre-order a copy of DREAMFALL here, and if you win, give that copy to your best book-loving friend!