This is Part 5 of my adventures exploring the off-limit catacombs under Paris. Here are Part 1, Part 2, Part 3, and Part 4.
I visited Paris's Ossuary for the first time in the 1990s. It's the open-to-the-public part of the underground network that everyone thinks of when you say "Catacombs." I was so enchanted by it that I have returned several times over the years. Its well-ordered bones, beautifully arranged and laid out for the purpose of visits (which have been extremely popular since it opened in the early 19th century) are fascinating partly for the creep factor and partly for the beauty of art made out of, well…us.
But the main reason I was drawn to it was the knowledge that every one of those millions of bones…the remains of more than six million people…had a story behind it. There are perfectly round holes in some skulls that suggest a bullet wound. There are the men who, for two years (1786 to 1788) carried the bones by dark of night in black cloth-covered wagons before dumping them down manholes. (More were added afterward).
And there is my curiosity as to just why Louis-Étienne François Héricart-Ferrand (director of the IGC after Charles-Axel Guillaumot (read Part 4), decided to arrange all of the bones in the geometric—even heart-shaped—designs that visitors see today. Had he seen the Capuchin Crypt in Rome, with the monk bones arranged into ghoulish maquettes complete with flying skeletons? (Which predates Paris's by almost 200 years.)
So it was to my great surprise (and not a little bit of delight) that Gilles, the artist and I turned a corner in the non-ossuary part of the catacombs to see a couple of bones lying on the floor. "Are those…human bones?" I asked. Gilles didn't answer. He just watched me carefully, unsure if I was going to freak out.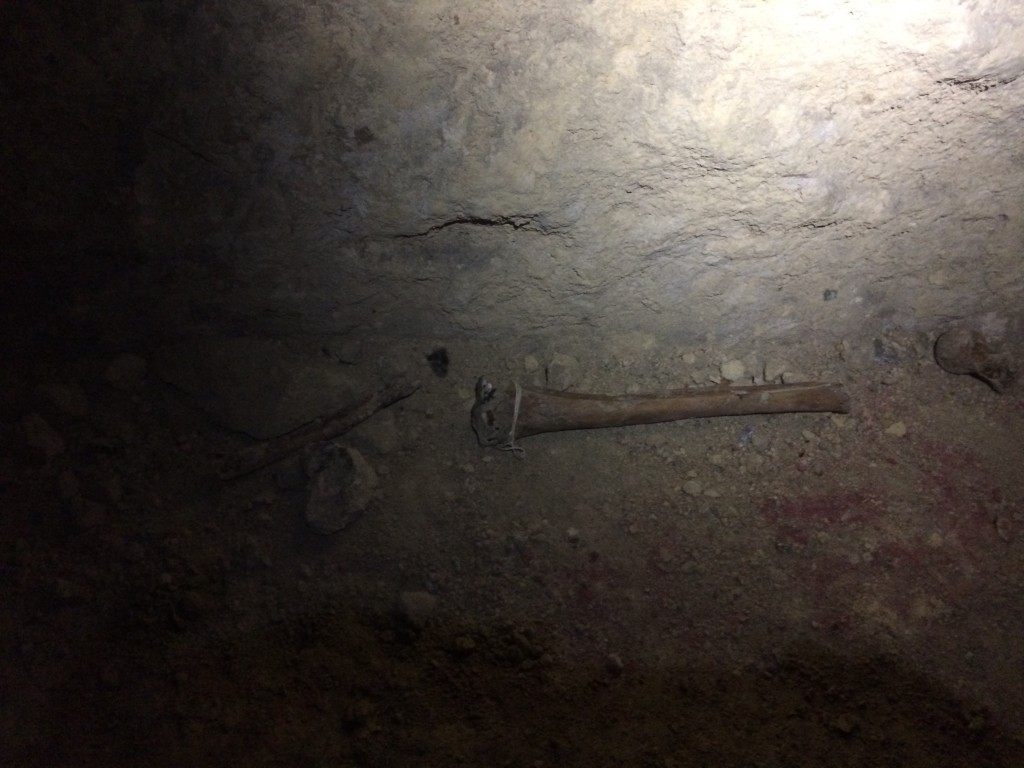 I'm not sure if it was a relief or a shock to him when I crowed, "Bones!!! There are bones!!!" and ran around delightedly taking photos.
I have a special relationship with Death. (Okay…let's just put it right out there and call it odd.) Death features prominently in all of my books. I used to hang out in cemeteries as a teenager and in my early twenties (and even more so now that Père Lachaise is within walking distance). I travel with my mom's ashes, so she is now floating in the Thames, the Seine, the Arno, the Danube, and the little pond in Central Park. And my collection of taxidermy and (animal) bones was a source of amusement to my friends and family until my Labrador puppy ate them all last year.
When my four-year-old daughter dug up a beaver skull in our backyard in the Loire Valley, and carried it into the house like a trophy, insisting that I display it on our mantle, I knew she was flesh of my flesh, and unquestionably bone of my bones.
Back to the catacombs…we followed the trail, which grew larger as we proceeded down the tunnel.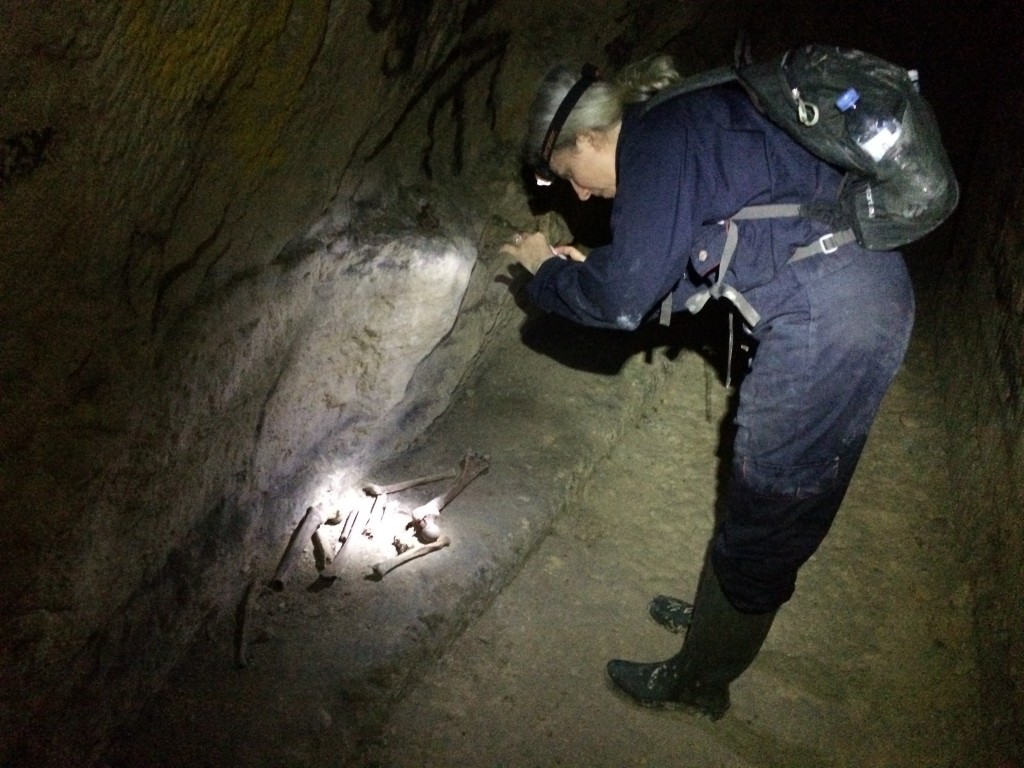 Gilles explained that after an extention was built onto the Ossuary in 1859-1860, Paris planners realized they needed more space to store even more bones. After 1870, they decided to put them in the quarries under Montparnasse Cemetery (where we were standing) as well as Montrouge cemetery and others. And since these were not going to be viewed by a ticket-paying public, they were unceremoniously dropped through manhole covers and left to assemble themselves. Or not.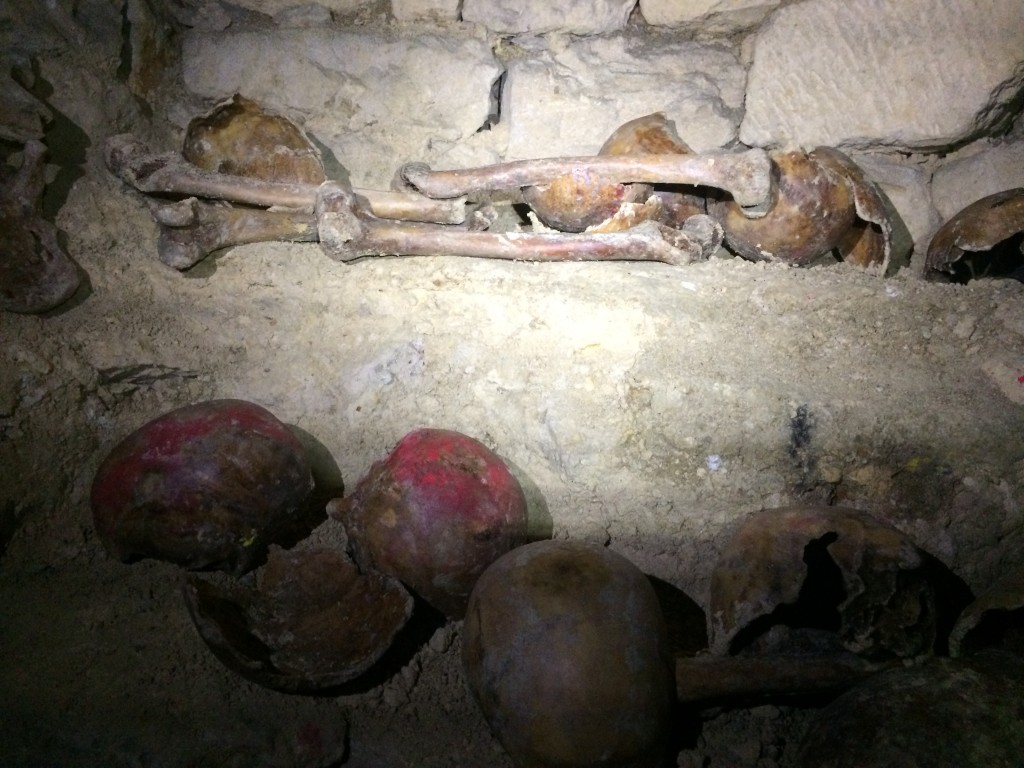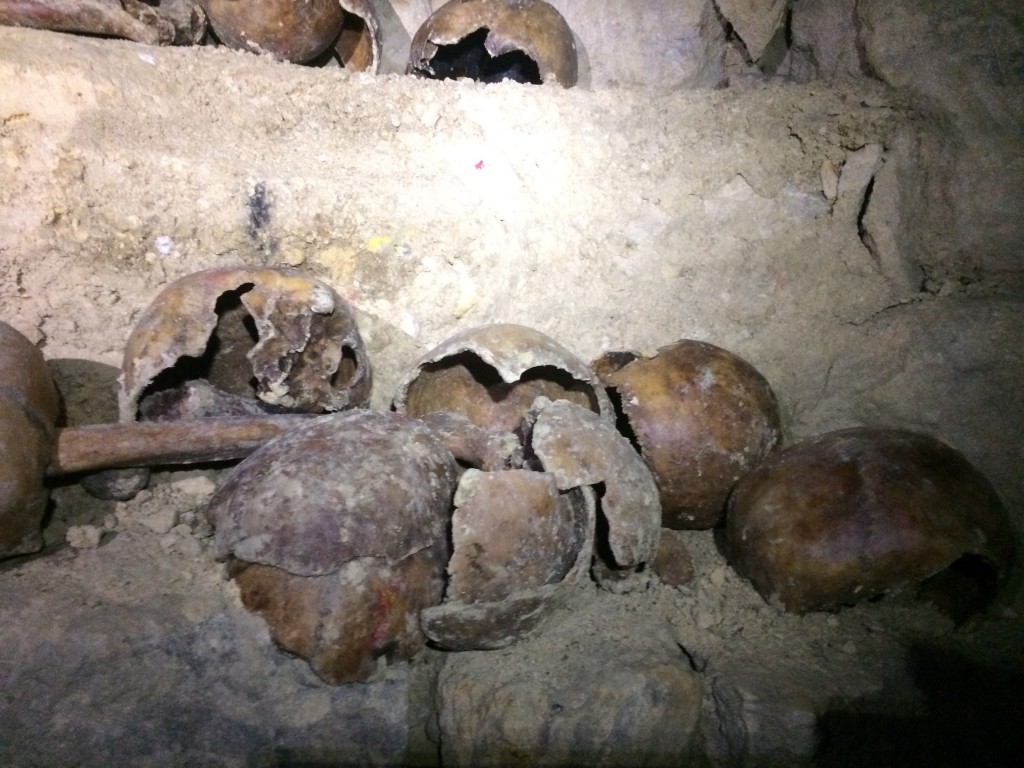 Finally we came to this corridor: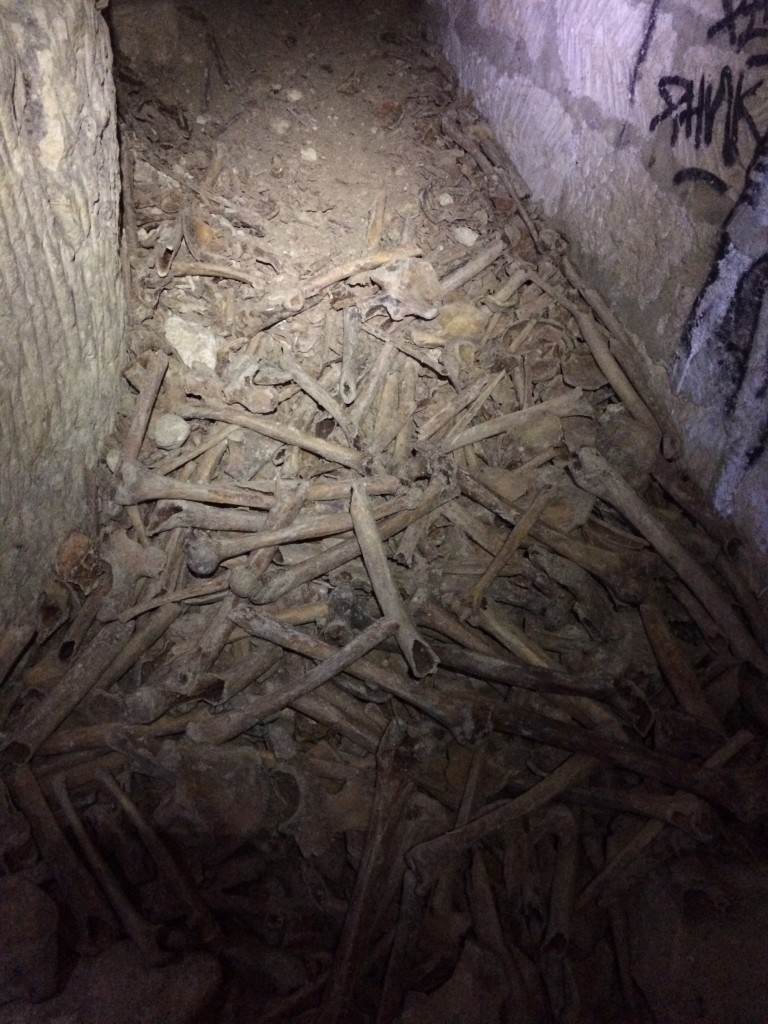 and I thought my joy was complete. Until we went just a little further and found this: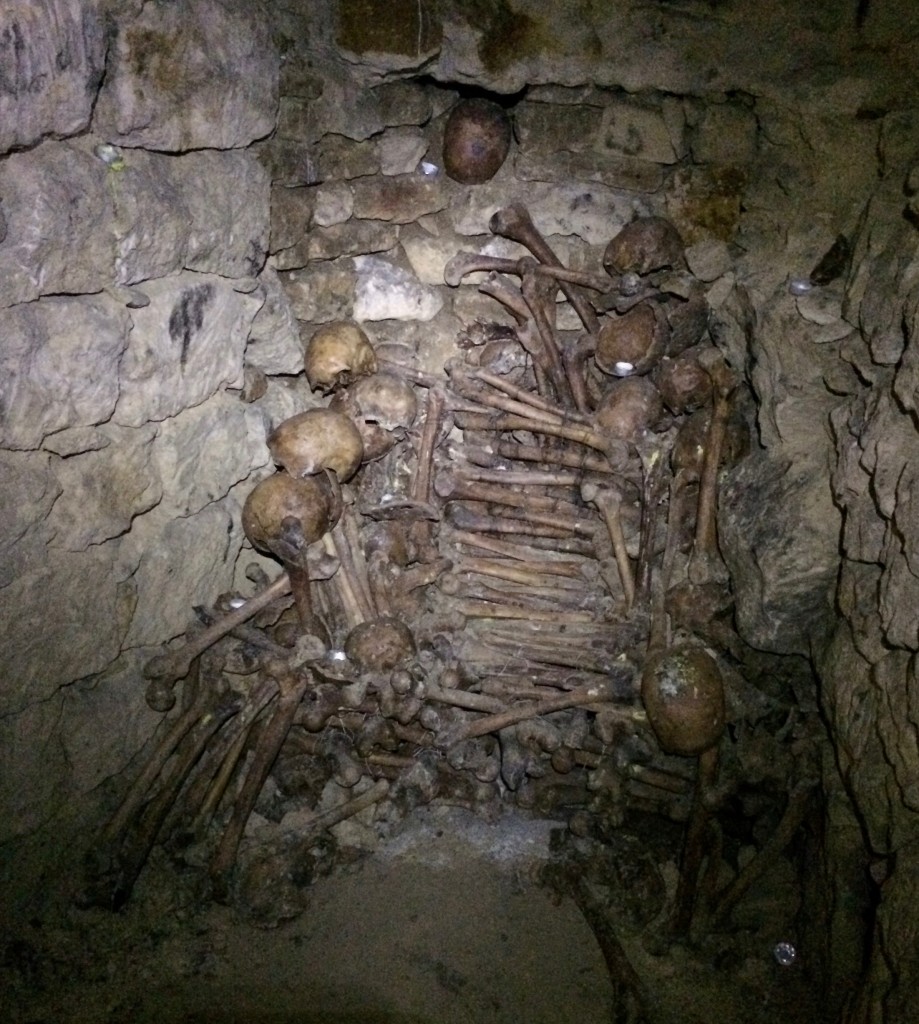 An actual THRONE OF BONES. I'm not sure who came up with this idea, but if you're reading this right now…I'm single.
Just because you worship something doesn't mean you can't touch it. Or sit in it. But not before whispering to the bones, "I respect you, but just give me a second to take a photo, and I promise I'll leave you in peace. And oh, can I hold this tibia as a scepter?" I'm not saying I did it. But I'm not saying I didn't.
And as soon as we left the Montparnasse Cemetery area, the bones disappeared.
They hadn't been framed by all of the beautiful carvings and signs that the official Ossuary boasts. But near the beginning of our tour, I took a photo of a carving that Gilles said was relatively recent. It's the perfect accompaniment to the Montparnasse Cemetery bone dump, and a bit of a shame that it isn't closer.
And if that's not enough of a reminder, an amazingly talented cataphile artist known as "Lone" left another nod to our mortality on one of the few large walls in a "fontis" (bell-shaped cave formed by a tunnel collapse). It took him the entire year of 2010, and is a rendering of the Swiss Symbolist artist Arnold Böcklin's painting "Isle of the Dead" (the version painted in 1883, incidentally bought at auction in 1933 by Adolph Hitler and now part of the collection of the Alte Nationalgalerie, Berlin).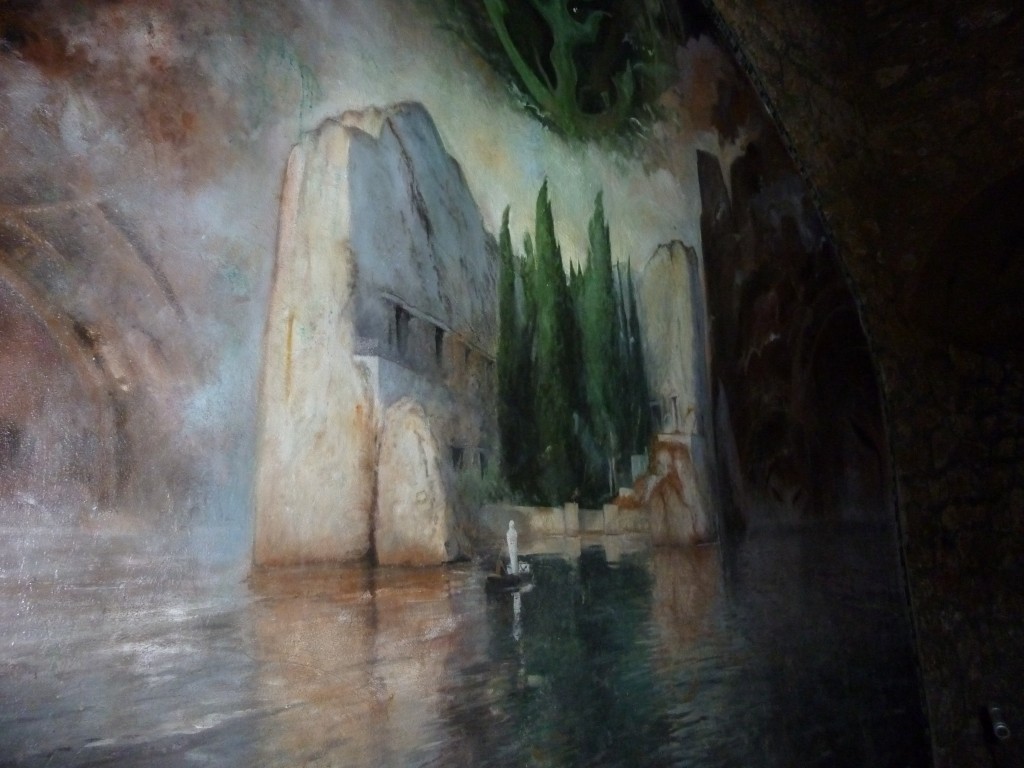 The mural is so large and the space around it so small, that I could only capture it in several separate shots.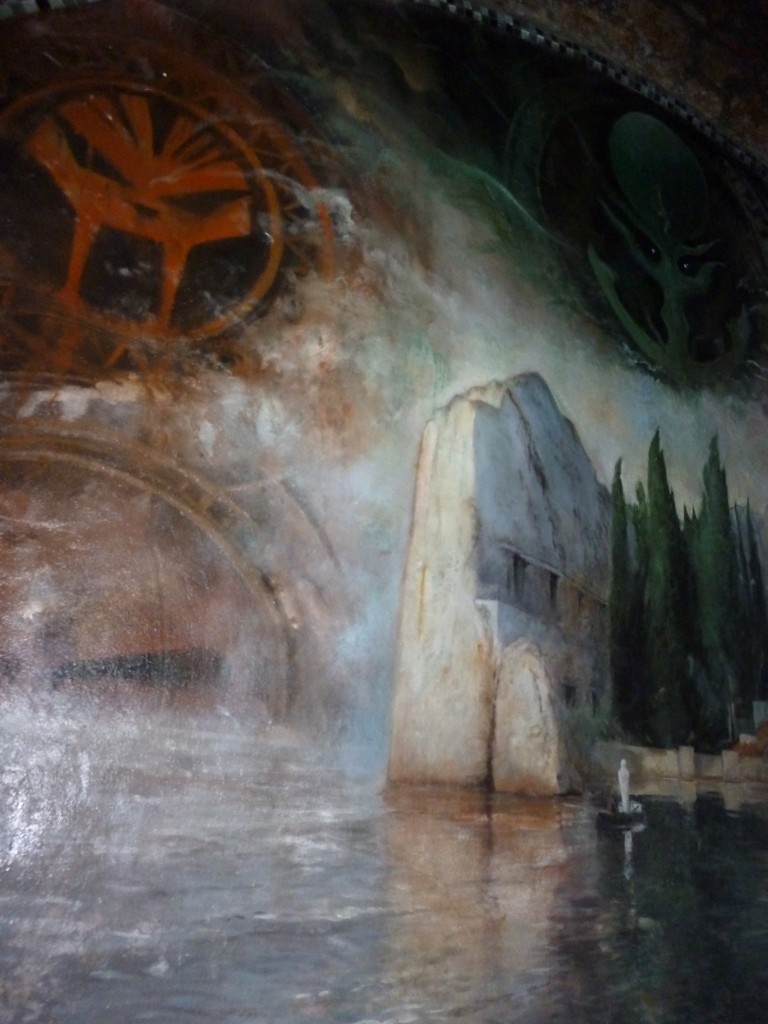 It depicts a shrouded corpse standing in a boat behind a white coffin, being rowed to the eponymous isle.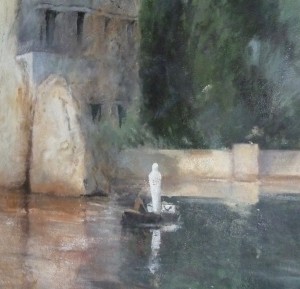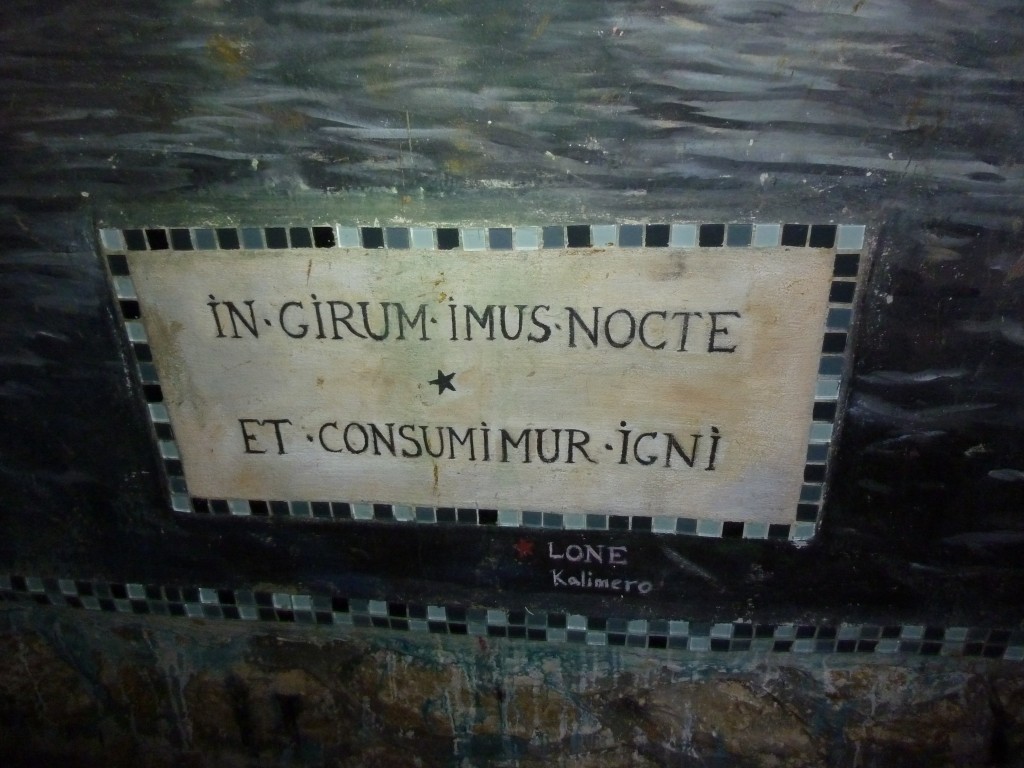 At the base of the mural, the artist has given us a palindrome (reads the same in both directions) sometimes attributed to Virgil meaning "We spin around the night consumed by the fire." (It's also the title of a French film, and was used by Umberto Eco in The Name of the Rose.)
It's a beautiful, if not a teeny bit morbid, metaphor for the catacombs: the humans that flit through its passages like moths, quickly devoured by the flame of time while the tunnels remain as an underground time capsule, preserving our traces for future generations to discover.
And on that cheery note, I'll end for today. The sixth and last installment tomorrow, featuring NAZIS IN THE CATACOMBS (and anything else I've forgotten to tell you).