This is part 3 of my adventures in Paris's illegal catacombs. Here are Part 1 and Part 2.
Before I take you further into the catacombs, let me tell you a little about the people who go down there.
The term cataphile is a self-appointed moniker by those who enjoy this particular form of urban exploring. People have been visiting the catacombs since the tunnels were first dug to connect the network of separate mines.
One of the most famous cataphiles dates from the Revolution. Philibert Aspairt's corpse was found in the catacombs in 1804, eleven years after he went missing. His widow identified his body, saying he had disappeared in November 1793, but she had no idea why he would have been in the catacombs. The cause of death was never determined, but one thing was clear: he died there because he couldn't get out.
His body was found near the quarry beneath the Capuchin monks' monastery, near the locked door where they stored their homemade liquor. But Gilles said it would have been easy enough for Philibert to have stolen their liquor by breaking into their basement from the street, if that had been his intention. Gilles's theory is that Philibert's reason for being in the catacombs was the same as ours: curiosity and the thrill of exploration.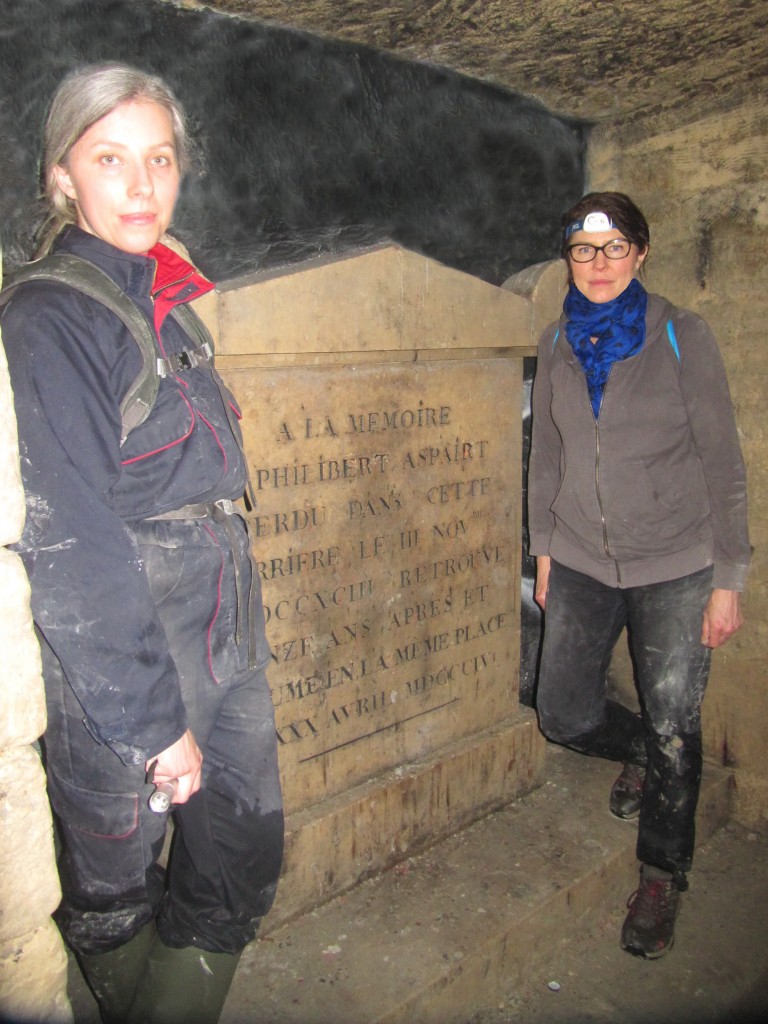 He was buried near where his body was found, not a very restful resting place since the noise of Paris's RER trains seems to be loudest in this spot. (Still just barely a rumble.)
Needless to say, Philibert's sad end didn't stop people from exploring. And there was a boom in the practice in the 1980s, when crews of cataphiles began regularly visiting the catacombs. One of the best known was "The Rats", who are behind some of the tunnels' most interesting artworks, including this AIDS-themed wall:
A whole vocabulary began to be used: there were cataboys and catagirls, one of the most famous being Foxy. When she died of cancer, a memorial plaque in the style of Philibert Aspairt's was created by her fellow cataphiles. My photo of the plaque didn't turn out since the guy taking a nap in his hammock (in Part 1) was blocking the view. But here is a portrait of her on a nearby wall:
and a mural facing her memorial plaque of a fictional bar made in her name:
But not all visitors of the catacombs can be considered cataphiles. There are the cataclastes: people who come down with spray paint and deface old inscriptions, steal plaques, and leave their trash behind. They don't respect the place like the cataphiles, who tend to have a worshipful we-are-the-keepers-of-the-catacombs attitude.
And then, there are the catacops (in French "cataflics"). They are a group of police who are assigned to the catacombs, as well as having other surface-level activities. They sweep the catacombs from time to time, giving 60-euro tickets to anyone they find there, and escorting them back to the surface level. They also keep track of any new passages made by cataphiles. (More on that later.)
The most famous catacop was Jean-Claude Sarette. (Look him up – he even has facebook pages dedicated to him!) He was known to respect the catacombs, unlike the catacops of today who spraypaint big ugly red numbers at crossroads so they can locate themselves on their own map. (Even though street names are clearly indicated on most corners, and used by the cataphiles, who don't need big red numbers to figure out where they are.)
Although Sarette ticketed cataphiles he found, they all loved him, and when he retired after twenty years on the force, they erected a Paris street sign-style plaque in his name…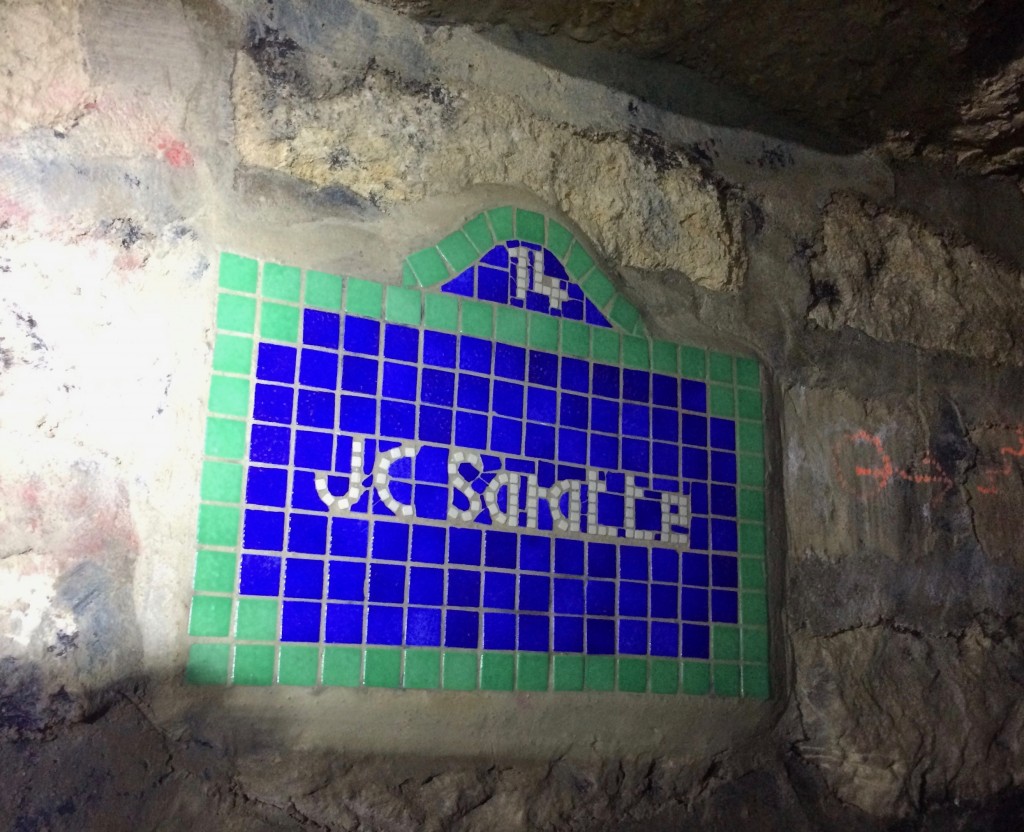 …and, according to Gilles, gave him a huge farewell party…in the catacombs. When Gilles told me he had been on the phone with Saratte a few days ago, and had told the retired catacop that he would be giving me a tour, I got the biggest thrill. Like someone had mentioned me to Maira Kalman. Or Neil Gaiman. Or someone else I semi-worship.
Cataphiles…cataclysts…catacops…cataboys…catagirls. They have their own legends, and even their own songs, like this 1980s punk homage to everything cata, and a good reminder that you didn't have to be able to sing or play an instrument to be punk. (Lyrics in English here.)
But the goal of the cataphiles isn't just to party underground or find a cool spot to make giant murals. It is exploration. And the only reason Gilles, the artist, and I had to worm our way through little tunnels during our 10-hour tour is because of the vent holes (or chatières) the cataphiles have dug to link one tunnel to another.
The reason they do this is twofold: one is to find spaces that were not included in the original survey. And the other is because a tunnel has been blocked, either accidentally because of cave-in or (more often) because the City of Paris has blocked a tunnel so that no one will go there: either a few hundred years ago, or more recently.
After everything I've told you, I'm sure you can imagine what cataphiles do when they find a tunnel cemented over. Yep. They dig around it. Like here: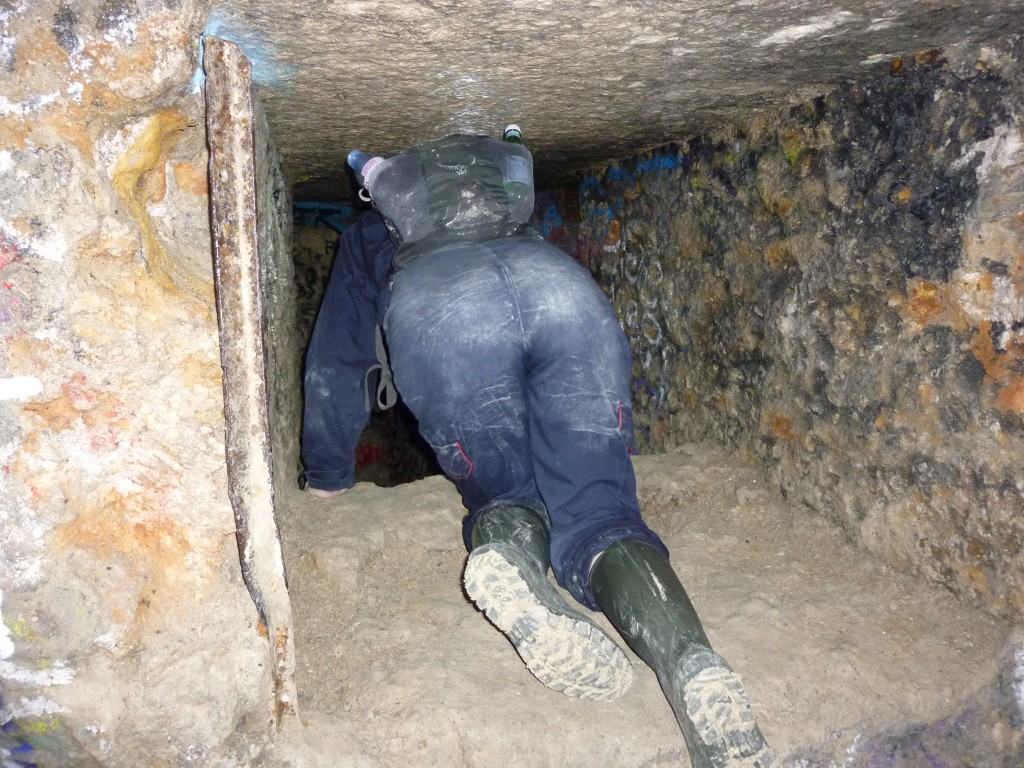 The cataphiles have also cleared areas that had been used as debris dumps in order to have space to sit around and eat, or stand around and chat, or, in the case of La Plage (The Beach), throw huge dance parties.
We came across a small party at the beginning of our tour. It must have been around noon (on a Sunday), and there were a dozen twenty-year-olds sitting in a small cave, very drunk and very merry. Gilles went in and asked them what time it was. A boy said, "It's always night down here."
As we left, one of them followed us out. "That wasn't Gilles Thomas, was it?" he asked suspiciously.
"Yes," I replied.
"No," he said, his face stretching into a Edvard Munchian scream.
"Yes," I replied.
"No. Really, don't joke about something like that. That wasn't really Gilles Thomas, was it?" He looked like he was about to faint.
"Yes," I replied.
He kept standing there arguing with me about Gilles's identity, until I finally turned and left him gawping, so that I could hurry after my legendary guide who had heard the boy's questions and scuttled off to avoid hero worship. For it seems that, among all of the other cata-legends, Gilles has his own place in cata-mythology.
THE STORY CONTINUES TOMORROW. But here's some more cata-eyecandy to hold you over: