One of the first attempts I made at fiction-writing was when I was 24 and living in an ancient building in the Marais. Every time I went down to my basement storage space, I would gaze longingly at a separate set of stairs that went down even lower…old stone stairs that descended into the darkness. Each time, I had this intense longing to follow them down, and would even tiptoe down three or four steps. But there were rats. Big rats that seemed to scuttle around with supernatural speed. Rats were a deal-breaker for me.
I ended up writing a story about Paris's underground tunnels as a sort of time traveling machine. When you came up, you'd be in a different year than when you went down. Unfortunately, there were large talking rats in my story, and one of my friends read it and said it was total crap. So I trashed it and didn't try my hand at fiction for another fifteen years.
Even then, when I began writing the DIE FOR ME series, I still couldn't stay away from underground Paris. It's a feature in every book of the series. I have visited the official Paris Catacombs (the Ossuary, where all the bones are) four times, and drew my knowledge from that and a bit of online research. But I had never experienced the true non-touristy catacombs of Paris…the fabled areas where all of the fascinating history I had read about…dreamed about…took place. Until yesterday.
I decided that for my 50th birthday, I wanted to do something I had never done before. I contacted a guide I had used a few times for private tours to ask if he would take me to the illegal part of the catacombs. He told me he couldn't, but he knew someone who could. But he wouldn't give me the guy's name. He said he would contact me.
"The guy" turned out to be Gilles Thomas, who told me he'd be happy to take me and my friends on a two-hour tour of the abandoned tunnels under the Cochin Hospital. They are lit with normal lights, you don't need equipment, and it's not hard-core. I said that sounded wonderful, but what I really wanted was The Other Tour. *nudge nudge* He kind of waffled about it and said I should come to his office to clarify what I was looking for.
Now I believe that it was a test. He wanted to meet me in person and make sure I wasn't a complete wimp. Also, once our meeting began, he had me define very specifically what I wanted. "The illegal parts…yes, in the dark…yes, in the water…yes, for hours and hours…yes, I understand we could be caught by the police and given a fine." He warned me that if I was in the least bit claustrophobic, I shouldn't go. That if I freaked out in the middle of the tour, it could be an hour and a half back to an entrance. I put on my most confident nothing-scares-me expression and told him that's exactly what I wanted. I could tell that I had succeeded when he got a little gleam in his eye. I had passed the test. I asked him what his fee was. He said, "Homemade chocolate cake."
I choked. "For a nine-hour tour?"
"It has to be homemade," he repeated.
"But can't I give you something else? I could translate one of your articles. I've translated historical documents, t.v. shows, books…"
He looked hurt. "My fee is chocolate cake."
"Chocolate cake. Fine!" I said quickly, before he changed his mind.
He gave me a time and a place to meet him—on a street corner in the south of Paris—told me to wear a head-lamp and shoes I didn't care about ruining…but not rain boots because they would just fill up with water. And that was that.
Until I went home and did some research on him. And I discovered I was getting a tour from The Expert of all experts. The guy who, for the past thirty years, has held a mythical role in the hierarchy of cataphiles. (Those whose passion is exploring the off-limits catacombs.) The guy who has written seven books on the topic, including: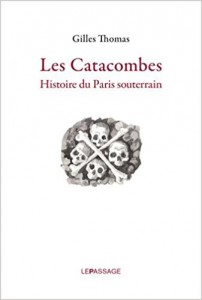 Les Catacombs: Histoire du Paris Souterrain, which the Académie française awarded with the Ève Delacroix Prize in 2016. (!!) Which kind of says it all, right?
Not to mention that he is the go-to guy whenever anyone important wants a visit. Including George R. R. Martin. And Pixar's team planning Ratatouille. And the makers of As Above, So Below (which Gilles swore he never saw). And every other important thing that is written or filmed about the catacombs. I thanked my lucky stars that I had somehow stumbled into this chance of a lifetime, and began getting my ducks in a row: buy headlamp, get dogsitter, plan a chocolate cake that would be worthy of a Gilles Thomas tour.
Gilles phoned me the night before my tour, and from his voice I could tell he was wondering if I had decided to back out. I reassured him that the cake had already been baked and iced and I was ready to go. I was excited. And a tiny bit nervous. But I went to bed, knowing the next day I would have one of the most amazing experiences of my life.
I woke up yesterday with full-blown jitters, after having a series of complicated nightmares where Gilles had given me a list of things to take that I wasn't able to get together, that the cake wasn't acceptable, that my kids were along for the trip and I had to protect them. I choked down my breakfast, drank about four cups of coffee, and got together: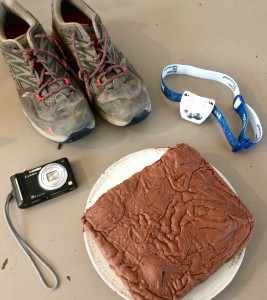 (I decided on buttermilk brownies instead of cake.)
Then packed a bag with this: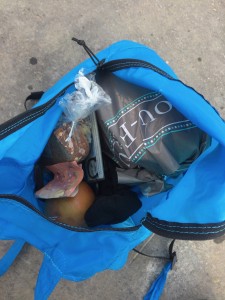 Towel in a plastic bag (because Douglas Adams), apple, sandwich with 10 euros and a metro ticket sealed in the bag with it in case I dropped everything in the water, my identity card in case someone needed to identify my body, scrunchie to tie back hair, and no bottles of water because I knew there wasn't a bathroom down there.
I waited nervously on the appointed corner until I saw Gilles walking toward me in thigh-high green waders. Within minutes, another person joined us—an artist who has gone through the catacombs with Gilles several times and is working on a catacomb-themed art project.
And we were off. Through a gate, down a hill, down a very long, dark passage (Gilles has asked me not to be more specific) until we reached this hole: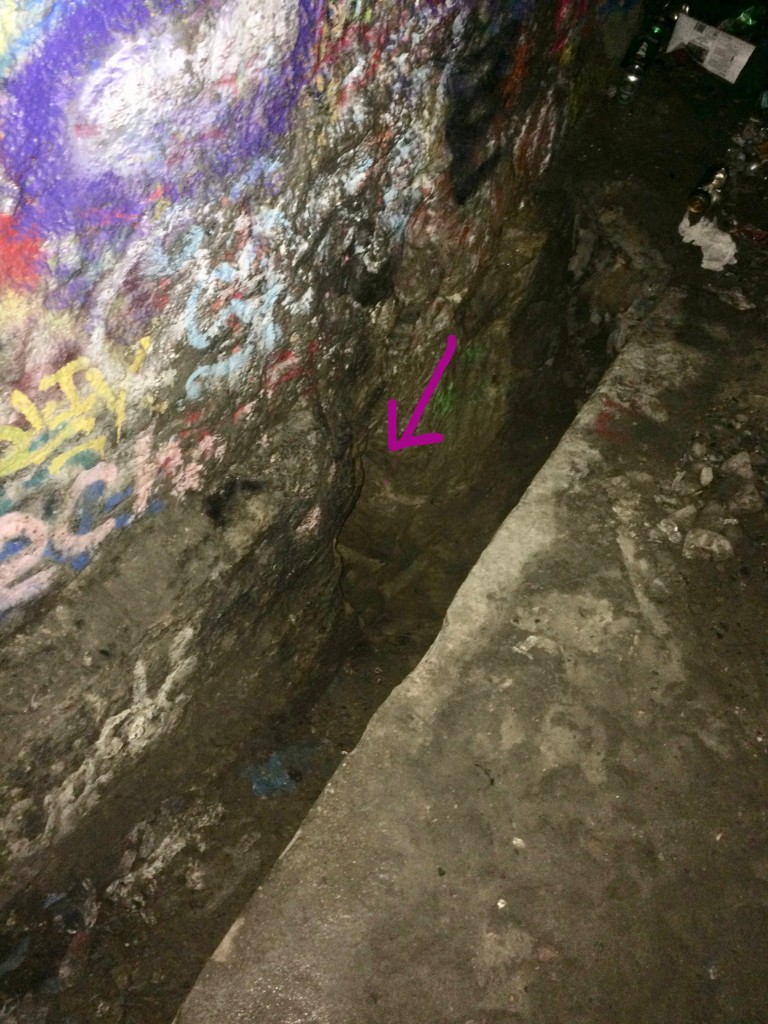 "Here we are!" Gilles said.
"Where?" I asked. "In that gutter?"
"The hole's right there," the artist said, pointing to a crack in the wall.
"I'm going to have to squash the cake," I said, trying to think of anything besides hyperventilating.
"That's fine," Gilles said, and started squeezing his 6'2″ body through the crack.
I mashed the bag I had holding the cake in into my backpack, and got on my hands and knees, and thought of wide open spaces, and followed Gilles and the artist through the crack in the wall and down into the darkness of the catacombs.
[Continued tomorrow…but if you want to see something similar to the crack-entrance (but not half as strenuous), look at the 1:13-1:50 mark of this video. And then watch the rest just because it's fascinating!]