Welcome to the Fall 2016 YA Scavenger Hunt
October 4 – October 9 (noon pacific time)
For you first timers, the YA Scavenger Hunt is an online blog hop created by the lovely and talented Colleen Houck. It's a chance for you to see bonus material from your favorite YA authors as well as winning amazing prizes.
If you came here looking for my bonus material, a video presenting my book An Alphabet of Paris Zombies, you'll have to keep hunting!
At this hunt, you not only get access to exclusive content from each author, you also get a clue for the hunt. Add up the clues, and you can enter for our prize–one lucky winner will receive one signed book from each author on the hunt in my team! But play fast: this contest (and all the exclusive bonus material) will only be online until April 3!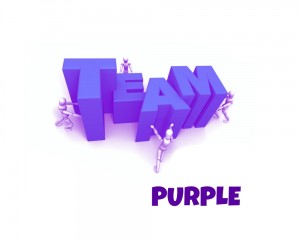 Go to the YA Scavenger Hunt page to find out all about the hunt. There are NINE contests going on simultaneously, and you can enter one or all! I am a part of the PURPLE TEAM–but there is also a RED, BLUE, GOLD, GREEN, and ORANGE-each with 20 authors for several chances to win a whole different set of signed books!
If you'd like to find out more about the hunt, see links to all the authors participating, and see the full list of prizes up for grabs, go to the YA Scavenger Hunt page.
(If you get stuck as you are moving through the hunt, click through to this page.)
SCAVENGER HUNT PUZZLE
Directions:
Below, you'll notice that I've listed my favorite number. Collect the favorite numbers of all the authors on the purple
team
, and then add them up (don't worry, you can use a calculator!).
Rules:
Open internationally, anyone below the age of 18 should have a parent or guardian's permission to enter. To be eligible for the grand prize, you must submit the completed entry form by
October 9
, at noon Pacific Time. Entries sent without the correct number or without contact information will not be considered.
ARE YOU READY??? Here we go…

BONJOUR!
I'm Amy Plum, and I live in Paris. The one in France. Not Texas.
As my favorite French chefs are so kindly demonstrating, I'm the author of the DIE FOR ME series, a paranormal romance series set in Paris featuring supernatural beings of my very own making called "revenants." My second series, AFTER THE END, is set all over America (road trip involved) and is action, romance, adventure, with a little bit of magic and a lot of kick-assness. My third series, DREAMFALL, is YA horror, and will be released in 2017 by HarperTeen.
Now that I've introduced myself, I'm excited to tell you about the author I'm hosting today:
the oh so awesome…
MICHAEL J. BOWLER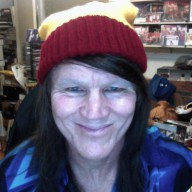 This is what I know about Michael:
Michael J. Bowler is an award-winning author who has made low-budget horror films, written stage plays, taught high school for twenty-five years, and been a lifelong volunteer with youth, especially incarcerated, disabled, and marginalized youth. Michael hopes his books can show young people they are not alone in their struggles, and he continues his advocacy for children's rights.
This is what I know about Michael's book:
SPINNER was reviewed by Kirkus Reviews thus: "Bowler…depicts his special needs kids not as victims but as real heroes. Will both warm the heart and chill the spine."
SPINNER has an amazing, intriguing, and totally read-worthy premise:
A fifteen year-old orphan in a wheelchair who possesses a miraculous power accidentally unleashes an ancient evil into the world, plunging himself and his learning disabled friends into a nightmare they might not be able to survive. Alex and the boys break into homes, dig up graves, elude kidnappers, fight for their lives against feral cats, and ultimately confront a malevolence as old as humanity. Friendships are tested, secrets uncovered, love spoken, and destiny revealed. The kid who's always been a loner will finally learn the value of friends, family, and loyalty.
SPINNER has an awesomely creeptastic cover.
MICHAEL'S EXCLUSIVE CONTENT
Michael is offering a fan favorite: DREAM CASTING (!!) for his book Spinner. Take a look at who he envisions as playing the parts of his characters: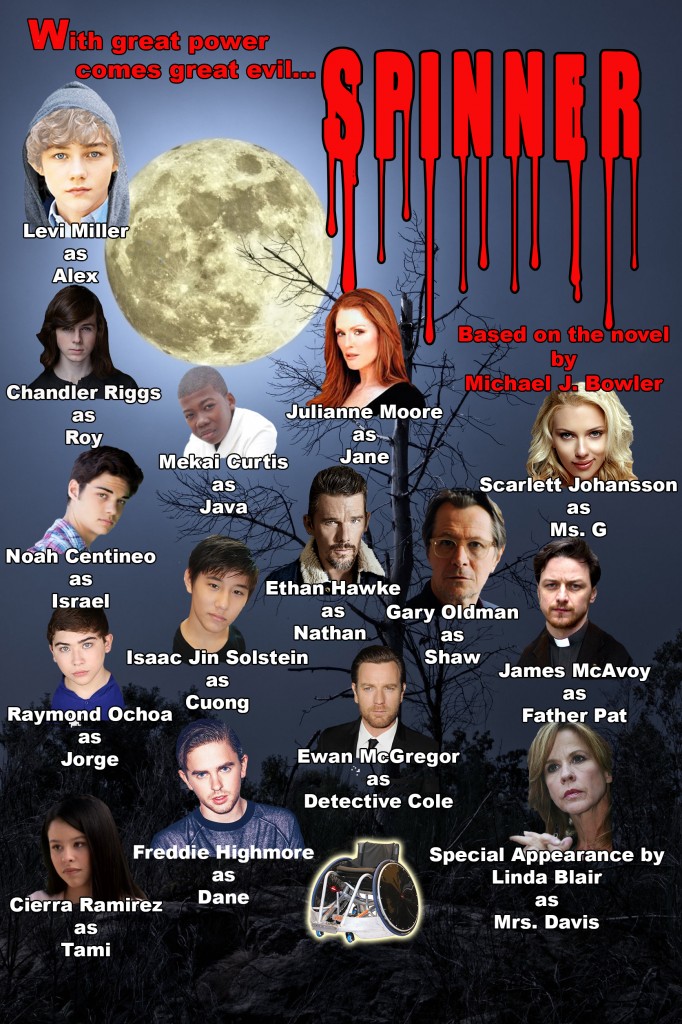 Can you even imagine the awesomeness? 🙂
To find out more about Michael and SPINNER, check out his website or follow his Facebook page!
To buy the book yourself, here is the Amazon link and the Barnes & Noble link!
And don't forget to enter the contest for a chance to win a ton of signed books by me, Michael J. Bowler, and more! To enter, you need to know that my favorite number is 333. Add up all the favorite numbers of the authors on the purple team and you'll have all the secret code to enter for the grand prize!
My very own giveaway
You have a chance to win a fabulous prize pack including signed hardbacks of AFTER THE END and UNTIL THE BEGINNING, 2 fine art postcards of Juneau and Miles by the artist Len-Yan, and 5 signed and dedicated Amy Plum bookplates (to stick in all of your Amy Plum books!) Just rack up points by following the instructions below, and I will put your name in the hat once per point. I will draw randomly at the end of the hunt and announce the winner here on this page.

How to get your points:
follow me on Twitter at @AmyPlumOhLaLa (1 point)
for each friend you get to follow me on Twitter you get 1 point (unlimited points)
follow Michael J. Bowler on Twitter at @BradleyWallaceM (1 point)
like me on Facebook (1 point)
get friends to follow me on Facebook (1 point per friend)
subscribe to me on YouTube (1 point)
get friends to subscribe to me on YouTube (1 point per friend)
sign up for my newsletter (1 point)
get friends to sign up for my newsletter (1 point per friend)
Leave me a comment here under this blog post telling me how many points to give you. Just leaving a comment counts 1 point. (And if you have done 1-8, give me your user names and your friends' user names so I can credit your points.) Please leave all of the information inside one comment, instead of a comment per person. The drawing will be random, but the number of points you get determines how many times your name will be put into the hat.
Note: to be eligible to win you also need to submit a valid entry for the YA Scavenger Hunt grand prize.
Don't stop here. CONTINUE THE HUNT!
To keep going on your quest for the hunt, you need to check out the next author!