Last year I had so much fun with my holiday promotion, that I've decided to amp it up this year.
If you have book lovers on your holiday list,
this is a gift idea that might just send them into
a frenzy of holiday joy!
1. Single books: For every copy that you buy of DIE FOR ME, UNTIL I DIE, IF I SHOULD DIE, or AFTER THE END I will send you an Amy Plum bookplate that is signed and dedicated to the person of your choice, and mailed from France.
2. For every copy of UNTIL THE BEGINNING that you pre-order, I will send you a signed and dedicated bookplate and a note that says, "Amy Plum's UNTIL THE BEGINNING has been pre-ordered for you, and will be delivered in May 2015."
3. DIE FOR ME package: If you buy all 3 DIE FOR ME books + DIE FOR HER digital novella, + pre-order DIE ONCE MORE digital novella (that's 5 books in all) I will send you 3 bookplates, 2 bookmarks, and a photo taken by me of one of the DIE FOR ME locations in Paris, with a handwritten passage describing the location on the back.
4. AFTER THE END package: If you buy AFTER THE END and pre-order UNTIL THE BEGINNING, I will send you 2 bookplates, an AFTER THE END bookmark and an AFTER THE END first-run book cover with a passage of the book handwritten by me on the back.
JUST TO MAKE IT MORE FUN…I can either have these gifts mailed to you so that you can wrap them up with the books. OR, I can have them mailed to the person of your choice, and across the back of the envelope will be written "A gift from [your name]."
The rules: this can be hardback, paperback or e-Book, but it has to be a first-time buy (not a used book). You can buy anywhere—online or on the street, just scan the receipt and email it to me. This is an international offer, good for any translation of my books in any country. Email your receipt to katieloumercier at gmail dot com. Offer runs from today (Nov. 8) to Dec. 19 (the day before I leave for Christmas vacation).
Want to see what your gift could look like?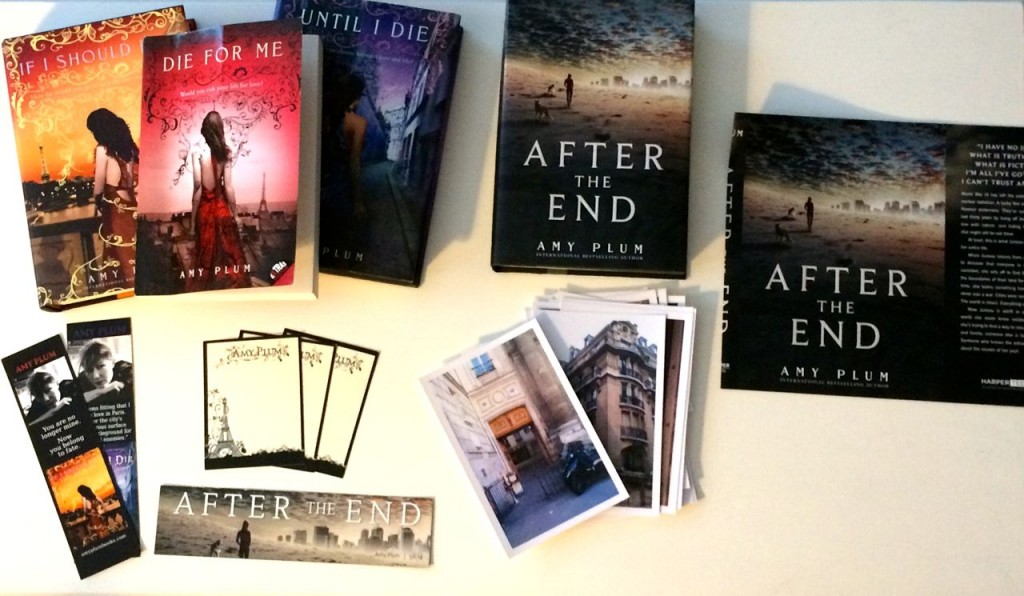 How's that for a ho, ho, ho? Thank you all, in advance, for wanting to share my books with your friends and family. I hope this gift makes everyone's holidays even merrier!