Today I have the pleasure of hosting AE Rought on today's CONTEST MONDAY. And up for grabs is an ARC of her upcoming book BROKEN, released in January by Strange Chemistry.
My very own blurb : "Death, kissing, and a smoking hot mystery boy in a hoodie: what more could you ask for?"
Well, one other thing you could ask for is an absolutely amazing cover: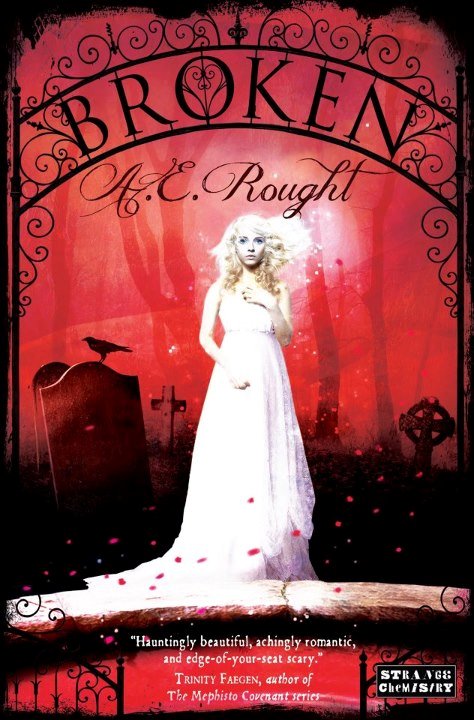 And a fascinating plot:
Imagine a modern spin on Mary Shelley's Frankenstein where a young couple's undying love and the grief of a father pushed beyond sanity could spell the destruction of them all.
"A string of suspicious deaths near a small Michigan town ends with a fall that claims the life of Emma Gentry's boyfriend, Daniel. Emma is broken, a hollow shell mechanically moving through her days. She and Daniel had been made for each other, complete only when they were together. Now she restlessly wanders the town in the late Fall gloom, haunting the cemetery and its white-marbled tombs, feeling Daniel everywhere, his specter in the moonlight and the fog.
When she encounters newcomer Alex Franks, only son of a renowned widowed surgeon, she's intrigued despite herself. He's an enigma, melting into shadows, preferring to keep to himself. But he is as drawn to her as she is to him. He is strangely…familiar. From the way he knows how to open her locker when it sticks, to the nickname she shared only with Daniel, even his hazel eyes with brown flecks are just like Daniel's. The closer they become, though, the more something inside her screams there's something very wrong with Alex Franks.
And when Emma stumbles across a grotesque and terrifying menagerie of mangled but living animals within the walls of the Franks' estate, creatures she surely knows must have died from their injuries, she knows."
Intrigued? Well all you have to do to be eligible for the ARC of BROKEN is follow Ann on FB and Twitter, and then tell me below in the comments that you did both. Ann approved of my regular "international" rule, so is ready to send the book anywhere in the world. We'll do a 24-hour time limit, but since I will be in an airplane in exactly 24 hours, I'm going to let Ann announce the winner here in the comments. Scan the comments below for Ann's announcement of the winner. And…GO!