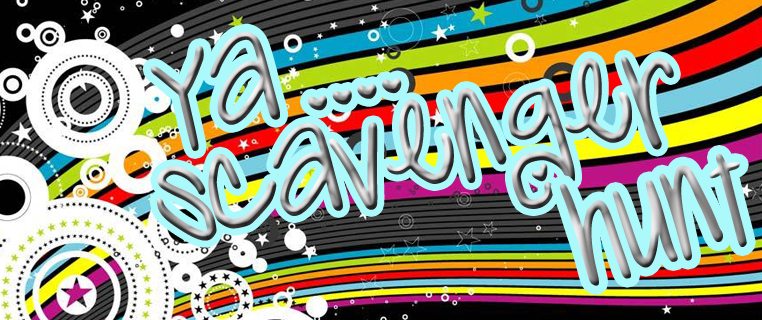 Welcome to the Winter 2012 YA Scavenger Hunt!
Nov 29 – Dec 2 (noon pacific time)
For you first timers, the YA Scavenger Hunt is an online blog hop created by the lovely and talented Colleen Houck. It's a chance for you to see bonus material by your favorite YA authors as well as winning amazing prizes.
If you came here looking for my bonus material, a deleted scene from UNTIL I DIE, you'll have to keep hunting!

At each stop on the hunt, you not only get to meet a YA author and read their bonus material, but you get a clue to enter for a grand prize–one lucky winner will receive at least one signed book from each author on my team! But play fast: this contest (and all the exclusive bonus material) will only be online for 72 hours—until noon PST on Sunday December 2nd!
You can start right here or you can also go to the YA Scavenger Hunt homepage to find out all about the hunt. There are TWO contests going on simultaneously! I am a part of the BLUE TEAM–but there is also a red team. You can enter both contests!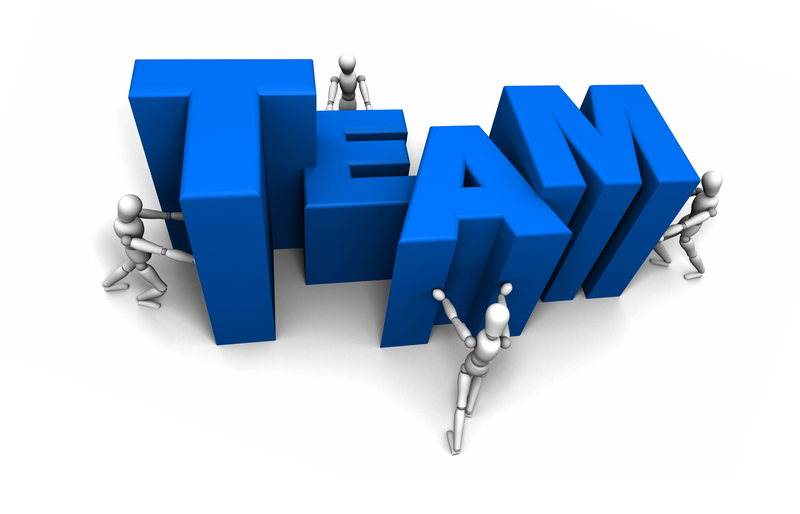 (If you get stuck as you are moving through the hunt, click through to this page.)
SCAVENGER HUNT PUZZLE
Directions:
You'll notice that I've hidden my favorite number in blue somewhere below. Collect the favorite numbers of all the authors on the
blue team
, and then add them up (don't worry, you can use a calculator!).
Rules: Open internationally, anyone below the age of 18 should have a parent or guardian's permission to enter. To be eligible for the grand prize, you must submit the completed entry form by December 2, at noon Pacific Time. Entries sent without the correct number or without contact information will not be considered.
ARE YOU READY??? Here we go…

BONJOUR!
I'm Amy Plum, and these are my two love slaves, Paul and Ian.
As my love slaves are so kindly demonstrating, I'm the author of the DIE FOR ME and UNTIL I DIE, the first two books of a paranormal romance trilogy set in Paris (which is where I live) featuring supernatural beings of my very own making called "revenants."
Now that I've introduced myself, I'm excited to tell you about the author I'm hosting today:
For this year's scavenger hunt, I have the honor of hosting the lovely Amalie Howard!
About Amalie:
AMALIE HOWARD grew up on a Caribbean island where she spent most of her childhood with her nose buried in a book or being a tomboy, shimmying up mango trees and dreaming of adventure. She received a bachelor's degree from Colby College in Maine in International Studies and French, and a certificate in French Literature from the Ecole Normale Supérieure in Paris, France. Traveling the globe, she has worked as a research assistant, marketing representative, teen speaker and global sales executive. In between writing novels and indulging her love of reading great books, Amalie is also the books review editor for theLoopNY, a local NY periodical, and blogs at amaliehoward.com. BLOODSPELL, a Seventeen Magazine Summer Read, is her first novel.
To find out more about Amalie and her book, visit her website at www.bloodspellbook.com.
About BLOODSPELL

:
The spell was simple …
Cruentus Protectum. Defend the Blood.
But what do you do if your blood is your enemy?
Victoria Warrick has always known she was different. An outcast at school, she is no stranger to adversity. But when she receives an old journal for her seventeenth birthday, nothing prepares her for the dark secrets it holds—much less one that reveals she's a witch with unimaginable power.
What's more, when she meets the dazzling but enigmatic Christian Devereux, she has no idea how much her life is about to change. Enemies will hunt her. Friends will turn on her. The terrible curse that makes her blood run black will stop at nothing to control her. And Christian has a sinister secret of his own…
Without knowing whom to trust, can Victoria survive her blood's deadly desires? Or will she lose everything, including herself?
BLOODSPELL can be bought here:
For her scavenger hunt BONUS MATERIAL, Amalie has given us an extract from BLOODCRAFT, the sequel to BLOODSPELL.
EXCERPT FROM BLOODCRAFT (BLOODSPELL 2)
"Kiss me then, already," Victoria said, her voice hoarse. Christian obliged, bending his head and brushing his warm lips across hers, but she pulled away until only their fingertips were touching.

"Not that way, the other way," she said breathless. This way.

Her mental voice was a coaxing caress. Christian's eyes burned silver as she slipped past the doors of his mind, her essence twirling around his consciousness, so seductive, it overtook him in seconds. She was like liquid fire, touching everywhere inside of him all at once, until he broke away with a gasp.

What's wrong? Victoria said gently.

Christian stared at her flushed cheeks, his free hand cradling her jaw. All he wanted to do was to pull her into his arms and kiss her for real, kiss her until neither of them could speak. But it was far too dangerous. The reality was neither of them could be trusted when things got heated—her treacherous blood couldn't be trusted—so they'd had to settle for something more controlled, less risky. But as intense as the mental thing was, nothing could surpass the feel of physical contact, the feel of her skin against his, her breath mingling with his … her taste …

I want … Christian stared into her luminous green eyes, his natural vampire magnetism compelling despite himself. His gaze dropped to her lips recklessly. More.

Victoria blinked, responsive, and for an instant Christian thought he saw a shimmer of black flash greedily in her eyes, but when she looked up, only their green warmth enveloped him.

Yes, they said.

Desire and hunger spun into the perfect storm as Victoria slid her fingers against his nape and held his head captive to hers, Christian's lips and mouth recreating every scorching step of their earlier mental exchange. He kissed her cheek, her jaw, her ear, inhaling her scent and descending lower, pressing into the taut column of her neck as she arched toward him lost in sensation.

Her throat, so beautiful, so close …

Her blood was singing, the dusky flush spiraling under her skin, the warm earthy smell of her intoxicating. Christian leaned in, his teeth grazing the translucent rose-tinted skin. His jaw tightened. He could feel her pulse humming beneath his lips, louder and louder, inviting him in.

All his desires coalesced into a single, insistent command.

Take it.
Holy crap! *Amy fans self* *goes to turn down radiators*  Thank you for that unseasonably hot scene, Amalie.
So that is our exclusive content from the fabulous Amalie Howard. BUT THAT'S NOT ALL I'VE GOT FOR YOU! There are 2 contests you can enter.
YA SCAVENGER HUNT CONTEST
To enter the contest for a chance to win a ton of signed books by me, Amalie Howard, and more! To enter, you need to know that my favorite number is 7. Add up all the favorite numbers of the authors on the blue team and you'll have all the secret code to enter for the grand prize!
My very own DIE FOR ME Contest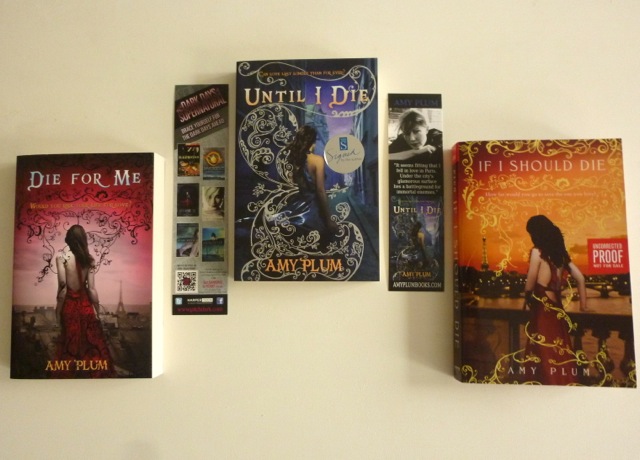 You have several chances to win a fabulous prize pack including an original Dark Days bookmark (with the Kate-in-the-Boat cover), a signed UNTIL I DIE bookmark, a signed copy of DIE FOR ME, a signed copy of UNTIL I DIE and…drumroll please…a signed ARC of IF I SHOULD DIE! (I know…huge prize pack!!!) (International.)
How to get your points:
follow me on Twitter at @AmyPlumOhLaLa (1 point)
get friends to follow me on Twitter (1 point per friend)
like me on Facebook (1 point)
get friends to follow me on Facebook (1 point per friend)
subscribe to me on YouTube (1 point)
get a friend to subscribe to me on YouTube (1 point per friend)
Leave me a comment here under this blog post telling me how many points to give you. Just leaving a comment counts 1 point. (And if you have done 1-6, give me your user names and your friends' user names so I can credit your points.) Please leave all of the information inside one comment, instead of a comment per person. The drawing will be random, but the number of points you get determines how many times your name will be put into the hat.
Note: to be eligible to win you also need to submit a valid entry for the YA Scavenger Hunt grand prize.
Ready to go to the next website on the Scavenger Hunt?