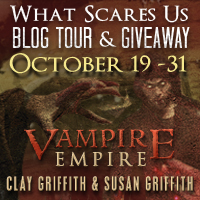 Today I'm hosting Clay and Susan Griffith's "What Scares Us" blog tour and giveaway celebrating the release of Book 3 in their Vampire Empire series: THE KINGMAKERS.
I met Clay and Susan while standing in registration line at the RT Conference last year, and then later discovered that their books are published by my good friend Lou Anders (of Pyr Books), who I used to play D&D with in Alabama when I was 12. Small world, no? Try miniscule.
So when Clay and Susan asked me to join their blog tour and offered me a few choices of scary things to write about, I leaped at "Scariest Monster."
First Clay and Susan will share their scariest monsters with us, then I'll reveal mine, and then I'll tell you about their awesome giveaway.
Scariest Monster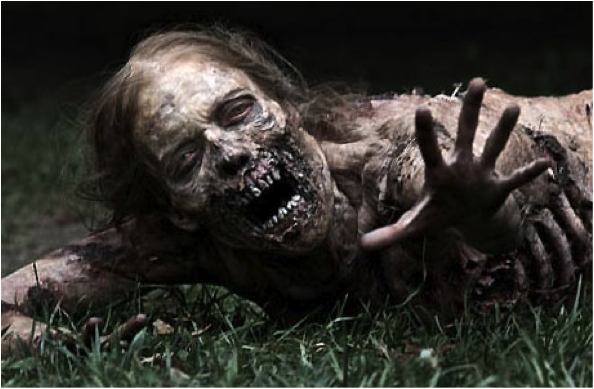 Susan
The scariest monsters for me are zombies, which is odd because I love graveyards. Maybe it's because I have this innate ability to make my rational brain protect me while I stroll through the old and broken tombstones, reading the faint and blackened etchings. I know that nothing undead will attack me because zombies aren't real. I know that dead is dead, and nothing will push up from the ground.
However, if I have to read about them or watch them on television, suddenly my rational brain goes into shutdown mode. Thank you very much. Zombies terrify me. There is something about zombies, be it that they are disgusting, they want to eat you alive, or they could be someone you love and lost. Needless to say zombies are like being eaten alive by like your crazy Aunt Matilda that died ten years ago. What the hell!?! Nothing is scarier or more disturbing than that.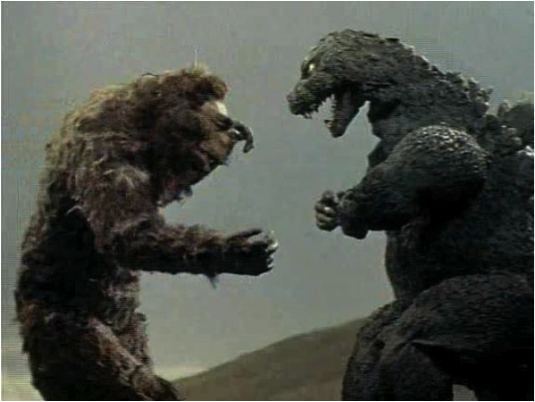 Clay
I've always been fascinated by giant monsters. Humongous apes. Radioactive bugs. Blobs. The King: Godzilla. These giants are usually very scary, although in the original Gojira, there are some really atmospheric shots of the big guy wading through Tokyo Bay and encountering power lines. Grainy black and white Godzilla is very eerie and powerful.
That leads me to my weird scary monster #1. It's King Kong. But I'm not talking about the original 1933 Kong. And not 1976 Kong. Not even 2005 Kong. I'm talking about the Kong from Godzilla vs. King Kong (1962). This is a movie that represents Toho Studios at their cheesiest, but there is something about the peculiar Kong that unnerved me when I was a kid. It's just a guy in a suit, and a bad suit at that. It doesn't look so much like a gorilla as a weird wild man. But he moved really fast. I think that's what disturbed me. Giant monsters are supposed to lumber across the tiny landscape, but this King Kong was crazed, leaping and jumping, throwing his arms around like a 200-foot lunatic. When I was a kid, he scared me with his lack of control and dignity.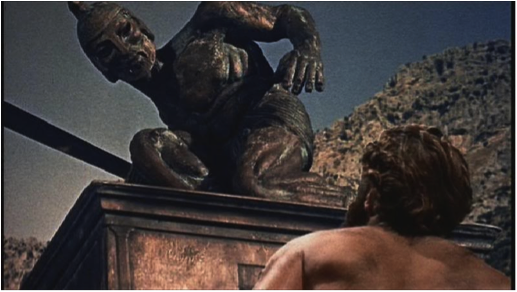 Now here is weird scary monster #2. In Ray Harryhausen's classic Jason and the Argonauts, there's a scene where the short-skirted Greek heroes find a huge temple that has an equally huge bronze statue kneeling on top. This gigantic monument is named Talos. When dumbass Hercules decides to take some riches from the temple, bad things happen. We see Talos, from a lowly human point-of-view, turn his colossal head with a terrible metallic screech and look down at the men. Holy Crap that moment scared me. Talos was so large and so solid. And, unlike Japanese Kong, he moved slowly, with reserve, showing just how powerful he was. And the sound he made. Like twisting steel girders. It was brilliant, even better for me than the fantastic skeleton army later in the movie. Harryhausen is a genius.
Amy
My scariest monsters are in my head. Or at least they were. I stopped having terrifying nightmares when I left home to go to university. (My home life included violence and religion. Go figure.)
But up until then I had visions of evil spirits like green mists that I couldn't get away from (during elementary school), Satanists in long robes with hoods and glowing red eyes who would chase me through a haunted house and finally find me and murder me with a knife (junior high).
And in high school, around 16, my nightmares became waking terrors. I would lie in my bed at night and literally sweat with fear at all of the monsters my brain was creating. We lived in this old, Antebellum home for a couple of years, and it was super creepy. There was a bathroom attached to my bedroom, and I just KNEW there was this skinned dead guy waiting behind the shower curtain for when I fell asleep, at which point he would slink…ooze, rather…into my room and kill me.
Around this time someone in my church gave me this bootleg tape that they claimed was from a tape recorder left recording in an empty church, on which you could hear angels singing. I brought my Walkman to bed and listened to the weird high pure voices singing. And did it comfort me? Not in the least. Instead of the skinned guy, I now had this red angel dripping with blood hovering above my bed, ready to grab me and fly away with me to hell or wherever bloody red angels come from.
Know what's funny? I sat in bed those nights, paralyzed with fear, thinking, I hope I remember these monsters when I'm older, because if I wrote them down I could be the next Steven King. And guess what? I'm writing about dead guys, who I once described as "guardian angels with OCD." Who knows…maybe my next book will be horror. 🙂
You
Now it's your turn. I want to know what YOUR scariest monster is. Leave it below in the comments!
Contest
And now for the goodies. Clay and Susan will pick one winner to receive an autographed VAMPIRE EMPIRE trilogy, as well as THIS awesome piece of steampunk-themed jewelry from London Particulars. Yes, the winner will get 3 books AND this lovely, mysterious trinket.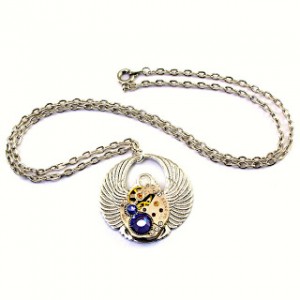 The winner will be chosen at midnight on Oct. 31st…TRICK OR TREAT! Enter here: a Rafflecopter giveaway

And don't forget to check out Clay and Susan's books here!