CONTEST OVER – I WILL BE SELECTING A WINNER TODAY (AFTER COUNTING UP POINTS)!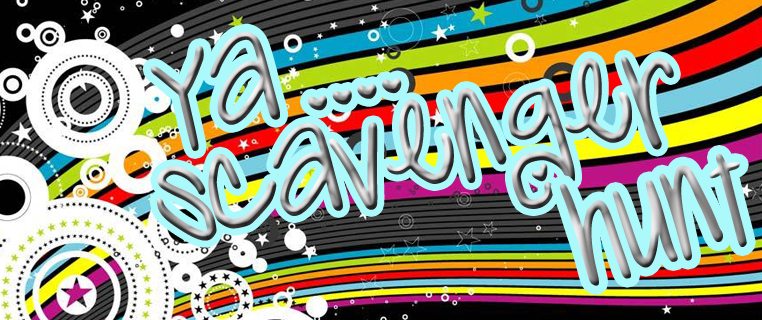 Welcome to the Summer 2012 YA Scavenger Hunt!
August 1 – August 5 (noon pacific time)
For you first timers, the YA Scavenger Hunt is an online blog hop created by the lovely and talented Colleen Houck. It's a chance for you to see bonus material by your favorite YA authors as well as winning amazing prizes.
If you came here looking for my bonus material, a POV piece written by Jules, you'll have to keep hunting! Don't blame me…he's the one who likes to play hard-to-get!
At each stop on the hunt, you not only get to meet a YA author and read their bonus material, but you get a clue to enter for a grand prize–one lucky winner will receive at least one signed book from each author on my team! But play fast: this contest (and all the exclusive bonus material) will only be online for 72 hours—until noon PST on Sunday August 5th!
You can start right here or you can also go to the YA Scavenger Hunt homepage to find out all about the hunt. There are TWO contests going on simultaneously! I am a part of the BLUE TEAM–but there is also a red team. You can enter both contests!
(If you get stuck as you are moving through the hunt, click through to this page.)
SCAVENGER HUNT PUZZLE
Directions:
You'll notice that I've hidden my favorite number in blue somewhere below. Collect the favorite numbers of all the authors on the
blue team
, and then add them up (don't worry, you can use a calculator!).
Rules: Open internationally, anyone below the age of 18 should have a parent or guardian's permission to enter. To be eligible for the grand prize, you must submit the completed entry form by August 5, at noon Pacific Time. Entries sent without the correct number or without contact information will not be considered.
ARE YOU READY??? Here we go…

BONJOUR!
I'm Amy Plum, and these are my two love slaves, Paul and Ian.
As my love slaves are so kindly demonstrating, I'm the author of the DIE FOR ME and UNTIL I DIE, the first two books of a paranormal romance trilogy set in Paris (which is where I live) featuring supernatural beings of my very own making called "revenants."
Now that I've introduced myself, I'm excited to tell you about the author I'm hosting today:
MIRANDA KENNEALLY


Miranda's Bio:
Miranda Kenneally is the author of Catching Jordan (2011), a contemporary YA novel about football and femininity. Her next book Stealing Parker releases October 1, 2012. Miranda is the co-creator of Dear Teen Me, a website where authors write letters to their teen selves. The Dear Teen Me anthology releases October 31, 2003. I mean, 2012. (Silly me. *cough*) She enjoys reading and writing young adult literature, and loves Star Trek, music, sports, Mexican food, Twitter, coffee, and her husband.
This is her book, STEALING PARKER, which will be released in October, 2012: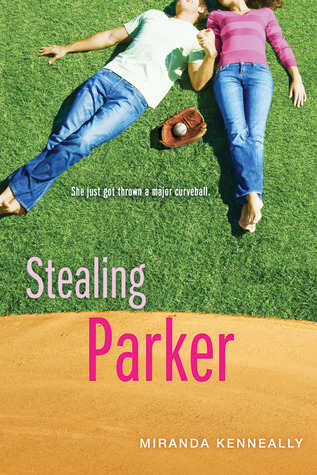 STEALING PARKER:
After her family's scandal rocks their conservative small town, 17-year-old Parker Shelton goes overboard trying to prove that she won't turn out like her mother: a lesbian. The all-star third-baseman quits the softball team, drops 20 pounds and starts making out with guys—a lot. But hitting on the hot new assistant baseball coach might be taking it a step too far…especially when he starts flirting back.
Find out more about Miranda's books by checking out her website at mirandakenneally.com/
or you can pre-order CATCHING JORDAN here!
Today Miranda has given us something amazing as her bonus material. The EXCLUSIVE COVER REVEAL of Miranda's forthcoming book THINGS I CAN'T FORGET, coming in 2013.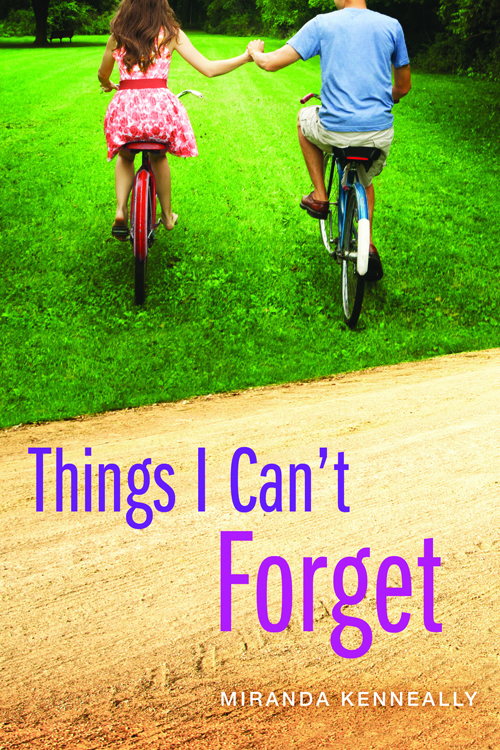 ISN'T IT GORGEOUS???
Thanks, Miranda, for letting us be the first to see!
Don't forget to enter the official Scavenger Hunt contest for a chance to win a ton of signed books by me, Miranda, and other YA authors! To enter, you need to find my favorite number, is which hidden somewhere in this post, in blue. Add up all the favorite numbers of the authors on the blue team and you'll have all the secret code to enter for the grand prize!
UNTIL I DIE Contest!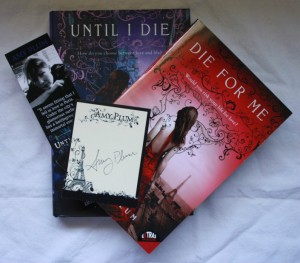 Enter up to 6 times to win a fabulous prize pack including a signed bookmark, a signed paperback of DIE FOR ME, and an unsigned hardback of UNTIL I DIE (with a signed bookplate you can stick in). (International.)
How to get your points:
follow me on Twitter at @AmyPlumOhLaLa
get a friend to follow me on Twitter
like me on Facebook
get a friend to follow me on Facebook
join my mailing list (on the right hand side of this blog page)
Leave me a comment here under this blog post telling me how many points to give you. Just leaving a comment counts 1 point. (And if you have done 1-4, give me your user names and your friends' user names so I can credit your points.)
Ready to go to the next website on the Scavenger Hunt? Let's go visit NANCY HOLDER!!