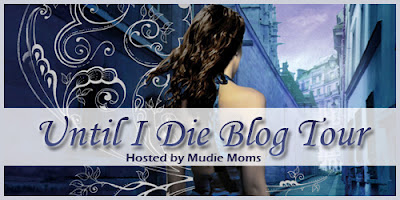 Now that we're more than halfway through the UNTIL I DIE blog tour, I am ready to give you more help on the Grand Prize Riddle. (I didn't want to make it TOO easy!)
So, the riddle goes like this:
____ ___ __ __________? ___ ____ __ ____
_______ ___ ____ ______ _____ _____ ___.
______ ___ _____. _________ ___ ____.
___ __________ ____ ____ _____ __ _______?
And here are the places to find the words so far. (Which are not in order.)
Day 1: Book review with Hypable
Day 2: Interview with Novel Novice
Day 3: UNTIL I DIE Excerpt with Fire & Ice
Day 4: UNTIL I DIE book review with Mundie Moms
Day 5: Kate's Character Interview with Page Turners
Day 6: UNTIL I DIE book review with The Story Siren
Day 7: Guest Post – Amy's Favorite Spot in Paris with Reading Lark
Day 8: Summary + Book trailer on Eve's Fan Garden
Day 9: UNTIL I DIE exclusive KISSING SCENE teaser on Jean Booknerd
Day 10: Review from Reading Teen
Day 12: INTERVIEW WITH VINCENT at Once Upon a Twilight
Day 13: UNTIL I DIE Playlist with GReads
Day 14: Review at Teens Read & Write
Day 15: Author Interview with Supernatural Snark
Day 16: coming up…interview with Jules at Books Complete Me! (*fans self*)
and 6 more stops after that.
Again, you are playing for this grand prize:
THE RULES:
In each day of the blog tour you will find one or more words in bold. Collect all of them and put them together in the right order to form a riddle about UNTIL I DIE's plot. The blog tour ends here on my blog on May 12. At that point, send me the riddle and your name will go into the hat to win the Longchamp bag.
But that's not all. After the complete riddle has been posted here on my blog (on May 13), you will have two months to email me with the ANSWER to the riddle (after reading UNTIL I DIE). If you answer it correctly, I will send you a signed book plate to stick inside your copy of the book!
If you haven't yet pre-ordered your copy of UNTIL I DIE, you can do it here!
For a SIGNED copy, order here from Books of Wonder.
IndieBound
Amazon US – Amazon UK
B&N
Book Depository (Worldwide)