UPDATE: and the winner is Alyssa Sooklal! Who, like EVERYONE ELSE guessed Georgia. (And yes, as a few of you guessed, she's talking about Ambrose.)
So congratulations, Alyssa. Write me on amy at amyplumbooks dot com with your mailing address. Thanks, everyone, for participating!
*****
Since I had to miss last week's CONTEST MONDAY, due to technical problems (e.g. NO ELECTRICITY and NO INTERNET in my new apartment), I'm making up for it by making this week's contest a good one!
Because not only am I giving away a signed hardback of DIE FOR ME…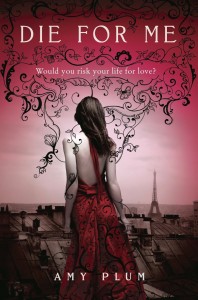 but I'm giving you an UNTIL I DIE teaser at the same time! All you have to do to enter is tell me which character's quote this is. (Don't worry – it's one of the characters from Book 1, not a newbie.)
IF you are one of the lucky few who received an ARC of UNTIL I DIE, you can't enter because that would TOTALLY BE CHEATING! 🙂 Otherwise, leave me a comment below telling me who spoke the following words:
"My lunch date bailed, but fortunately I ran into this hunk o' burnin' love, and he has gallantly offered to escort me around town today. I hadn't planned on doing anything really, but I figure it would be a waste not to show him off."
International. 24 hours. And…go!