I can't even say how excited I am to introduce you to a debut YA author who I've become friends with.
I met Claire Merle at the Paris SCBWI conference last December, and we clicked right away. I was so happy to meet a Paris-based author because most of my other writer friends are a whole ocean, or at least an English channel, away. Plus, we have in common the fact that we're both married to a French guy and are raising two young kids in the French system. PLUS, she too is a Young Adult writer AND is really really nice. I felt like I had hit the author-friend jackpot.
When she told me about her book THE GLIMPSE, which will be published in the U.K. by Faber & Faber in June 2012 (and she's waiting to hear about publication elsewhere), I thought, Wait until my readers hear about this!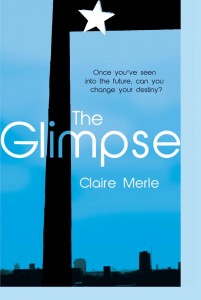 Here's the synopsis:
In a near future, society is segregated according to whether people are genetically disposed to mental illness. 17-year-old Ana has been living the privileged life of a Pure due to an error in her DNA test. When the authorities find out, she faces banishment from her safe Community, a fate only thwarted by the fact that she has already been promised to Pure-boy Jasper Taurell.
Jasper is from a rich and influential family and despite Ana's condition, wants to be with her. The authorities grant Ana a tentative reprieve. If she is joined to Jasper before her 18th birthday, she may stay in the Community until her illness manifests. But if Jasper changes his mind, she will be cast out among the Crazies. As Ana's joining ceremony and her birthday loom closer, she dares to hope she will be saved from the horror of the City and live a 'normal' life. But then Jasper disappears.
(You can pre-order THE GLIMPSE from anywhere in the world here.)
Sounds fabulous, right? And then, just a few days ago, Claire told me about the most awesome contest that she is holding for U.K. teens. And I thought I could call on you, my readers, to spread the word about Claire's event—whether you're in the U.K., the U.S., the Philippines, or anywhere else in the world…my THE GLIMPSE contest is international.
So on this CONTEST MONDAY, I'm giving away something really special. A collector's item. A signed copy of DIE FOR ME's original American ARC – the one with the Kate-in-a-Boat cover!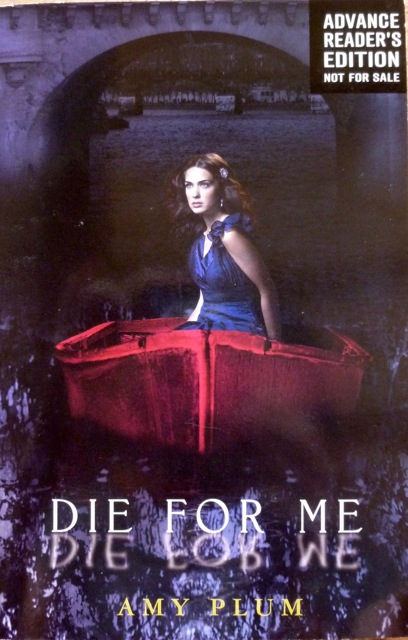 This is a points-based contest, and the number of points you earn is the number of times your name goes into the virtual hat of Randomizer.org to win the prize.
1 point: follow Claire's FB page
1 point: from Claire's FB page, share her video (you will see it posted near the top of her posts)
1 point: Add it to your Goodreads "to read" list
1 point: Say something about Claire and THE GLIMPSE on your FB page, Tumblr page or Blog.
1 point: Follow Claire on Twitter at @ClaireMerle
1 point: Tweet the following "CONTEST!! Plus meet @ClaireMerle, author of upcoming YA THE GLIMPSE & find out about her book trailer auditions here: http://bit.ly/wxTQLc"
1 point: follow The Glimpse's FB page
1 point: (freebie) leave me a comment on this blog just saying "hi" if you only want 1 point, or giving me the links and/or info about the other points I should give you.
That is 8 points you can earn in all. The contest is open internationally and will end in exactly 48 hours (Wednesday at 11am Paris time).
SO…what is Claire's amazing idea? Her publisher, Faber & Faber is holding auditions for the lead role in her book trailer. U.K. citizens between ages 13-18 have until February 20 to send their audition video. You can find the audition script and instructions here.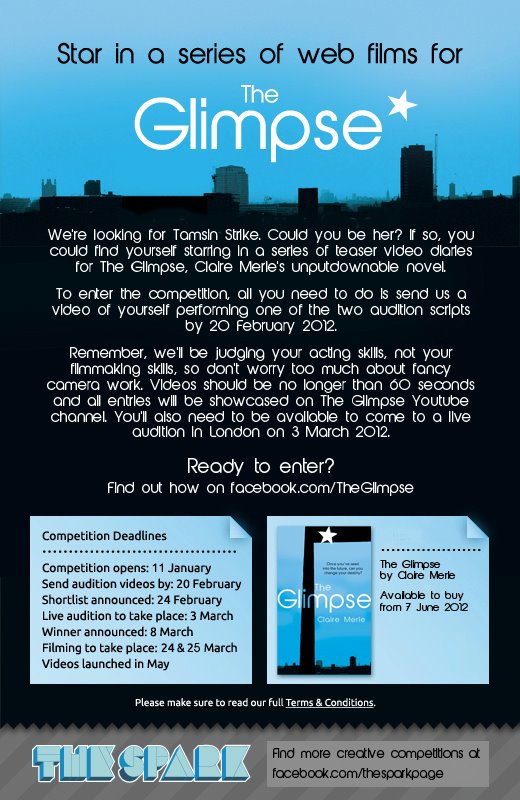 And for your viewing pleasure, here is the contest video!
Good luck to everyone with my THE GLIMPSE contest, and I can't wait to see who will be chosen as the actress for Claire's trailers!