As if the summer weren't already fun-packed enough, there will be a ONE DAY ONLY scavenger hunt taking place right here on the internet. Mark August 1 in your calendars, because it's going to be one HOT SUMMER DAY!!!
THE PARTICIPANTS: YA authors Josephine Angelini, Tera Lynn Childs, Angela Corbett, Kady Cross, Heather Davis, DJ Desmyter, Bree Despain, Leigh Fallon, Marley Gibson, Abbi Glines, Colleen Houck, Tara Hudson, Elana Johnson, Sophie Jordan, Myra McEntire, Alexandra Monir, Lisa Nowak, Amy Plum, Beth Revis, Lisa and Laura Roecker, Inara Scott, Jeri Smith-Ready, Lani Woodland.
THE BONUS MATERIAL: each author is offering something REALLY special – a bonus chapter, news on an upcoming book, a cover reveal, or another exclusive peek inside their world. But, as I mentioned, it's one day only! All of the bonus material heads back into the vault on Aug 2nd. My bonus material: a trio of DIE FOR ME outtakes!
THE LOOT: along the way, there will be fabulous surprises and giveaways! I will be donating a signed book as part of the Grand Prize.
And as my personal prize, I have a gift-bag including:
1. a signed DIE FOR ME bookmark
2. an Eiffel Tower + heart cell phone charm
And 3. the never-used cover for the original American hardback (showing Kate-in-a-Boat). This is a collector's item – only a few exist. And I only have 2 left (one is for me!).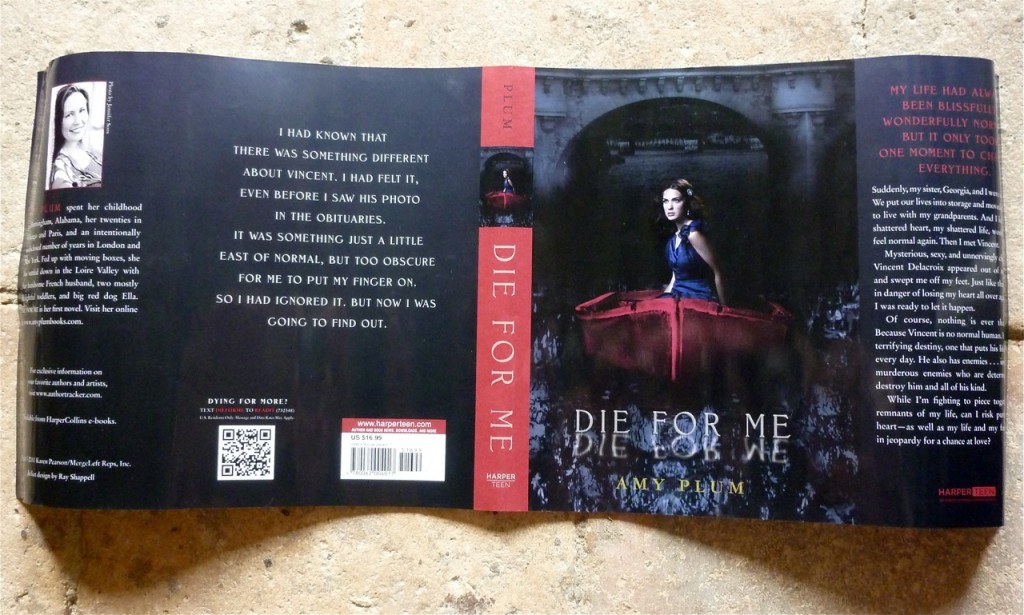 HOW IT WORKS: come back here to my blog on August 1 to find my surprise guest-author's bonus material. Then follow the clue I give you to go to the next scavenger hunt location. At each stop there will be a code word marked in red. You have to have each of the code words in the hunt in order to solve the puzzle and win the grand prize. Fabulous surprises wait around every corner!
Join us as we celebrate what's new in YA fiction!
* A huge thanks to organizer Colleen Houck for coming up with such a fab idea!