As promised, I'm having a giveaway to celebrate reaching 1000 Facebook followers! (Open internationally.) And, to give everyone in every time zone a chance to win, I'll leave the applications open for 24 hours starting…now. The prizes:
A signed copy of DIE FOR ME
Heather Brewer's THE CHRONICLES OF VLADIMIR TOD: EIGHTH GRADE BITES
Leigh Fallon's THE CARRIER OF THE MARK (ARC)
Christina Hopkinson's IZOBEL BRANNIGAN.COM
Nicola Kraus & Emma McLaughlin's THE NANNY DIARIES
5 signed DIE FOR ME bookmarks (5 separate prizes)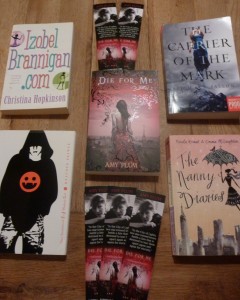 If you're not already following me on Twitter (@iHeartRevenants) and FB (http://www.facebook.com/amyplumfanpage), please go to both places and follow/like!
To enter, leave a comment to this post with your name and email and/or Twitter address. DO NOT TELL ME WHICH PRIZE YOU WANT. Because this is how it goes: I will choose the top 10 names by randomizer, and will immediately post them ordered from #1-#10 in a blog post. Those people have 24 hours to email me with their wish-list (the prizes from top pick to bottom pick), and I will assign prizes according to which prizes you rank highest and how high you are on the list. If anyone doesn't respond to me within 24 hours, they forfeit and I contact #11 on my randomizer list!
Let the comments begin! (And THANK YOU 1000 FB followers!!)