Just have a look at what the mail lady brought me today!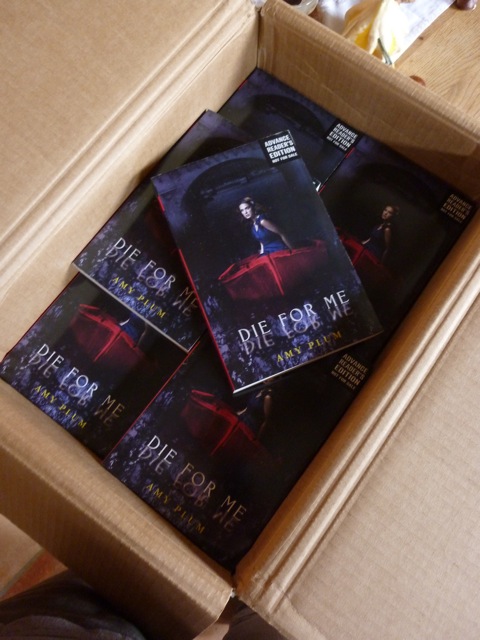 Yes, it is a box full of DIE FOR ME's ARCs (Advance Reading Copies). These are in the process of being sent by HarperCollins to booksellers and official reviewers. And later—closer to publication—some copies will be sent to book bloggers and non-professional reviewers who requested them from the publisher.
But, being the hopelessly impatient person I am, after doing a happy dance around my kitchen I wanted to give one away IMMEDIATELY! And I think I've found the right way to do it. It's a charity auction. For a very good cause.
The friends and family of young adult author, Bridget Zinn, are holding an online auction called "Bridget Kicks Cancer." They're raising money to help pay for her cancer treatment, and you can read about it here. Artists, authors, and friends of Bridget have donated items to the auction, and I am very honored to join them by offering the very first signed ARC of DIE FOR ME.
Not only do I promise not to send out any other signed copies until this very first copy is received by the winning bidder…but to make the offer even more tantalizing, I will dedicate it to whomever you specify, gift wrap it myself, and send it anywhere in the world IN TIME FOR CHRISTMAS!!! Postage (as well as pretty paper and ribbon) is on me!
The auction has already begun, and will end on December 4. So click here (and, if you're asked for it, use the auction ID "bridgetkicks" and password "cancer") to hop on over to the auction, and place your bids on DIE FOR ME's first signed ARC, as well as lots of other fun and exciting loot that's been donated.
Since only one person can win, and not everyone is capable of donating as generously as they wish to good causes like this, I say…do not despair. I will hold other contests down the road that will not cost a penny. But I really wanted to do something special with this very first signed ARC. So for those of you who can participate, click on over and place your bids.
Very best wishes to Bridget and kudos to her friends and family for such a creative fundraiser!
Again – if you go straight to my page, you need the auction ID "bridgetkicks" and password "cancer". If you go straight to the main auction page you won't need those!